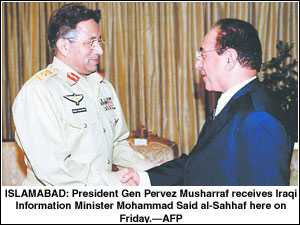 UNITED NATIONS, Feb 28: Iraq said on Friday the dismantling of Al Samoud 2 missiles would start on Saturday in accordance with a deadline set by the UN arms inspectors. However, the United States said the move would still leave Baghdad far short of UN demands and not stop the march toward a possible war.
US President George W. Bush "views this as continued trickery, continued deception. I think it's fair to say that the Iraqi regime is a deception wrapped in a lie inside a fraud," said White House spokesman Ari Fleischer.
Iraq in a letter to the UN said it would obey UN orders to destroy its Al Samoud 2 missiles whose 93 mile range exceeds the UN limit set in 1991.
The US reaction was that Baghdad was trying to mask the fact that it had mass stores of weapons of mass destruction it was required to disarm under UN Resolution 1441.
"If we go to war, we are going to go to war because Iraq continues to have 26,000 litres of anthrax, 38,000 litres of botulin, 1.5 tons of nerve agent, 6,500 aerial chemical bombs," Mr Fleischer said, citing previous UN reports.
Earlier, the United Nations announced that Gen Amir Al Saadi, a top adviser to President Saddam Hussein, had sent a letter to chief UN weapons inspector, Hans Blix, saying Baghdad had accepted UN order to destroy Al Samoud 2 missiles.
In the letter, Iraq said it accepted "in principle" the destruction of the missiles. But it said Mr Blix's decision was "unjust and did not take into consideration the scientific facts regarding the issue."
"In order to establish a timetable and other technical and procedural criteria required for implementation, we suggest dispatching a technical team urgently for this purpose," the letter added.
"There will be technical discussions between UN weapons teams and Iraq on Saturday morning following which the destruction process could start," a UN spokesperson said.
UN arms inspectors say the missiles' range exceeds the 150km (93 mile) limit set in UN resolutions, and Mr Blix gave Iraq until March 1 to begin destroying the missiles and most of their components.
RUMSFELD: The United States dismissed Baghdad's offer to destroy its Al Samoud 2 missiles and pressed on with its war preparations against Iraq, deploying a sixth aircraft carrier and B-2 stealth bombers.
Commenting on the Iraqi offer, Defence Secretary Donald Rumsfeld said it was part of Baghdad's continuing pattern to cooperate only under intense pressure. "I do not see any change in their pattern at all," he added.
Mr Blix is due to report next to the Security Council on March 1 concerning Iraq's efforts to rid itself of weapons of mass destruction.
The Iraqi sources said possession of the missiles did not constitute a material breach of UN Security Council Resolution 1441 under which international arms inspectors returned to Iraq last November after a four-year absence.
British Prime Minister Tony Blair, asked about the latest Iraqi offer, told a news conference in Madrid: "This is not a time for games."
LIMITED DISARMAMENT: As Iraq agreed to begin destroying Al Samoud 2 and other missiles components by March 1 deadline, the chief UN weapons inspector, Hans Blix, says in a report that Baghdad failed to make a major effort to produce evidence of its weapons programmes and therefore its disarmament has been "very limited so far."
According to report leaked to Western media by some UN Security Council diplomats, Iraq could have made greater efforts "to find remaining proscribed items or credible evidence showing the absence of such items."
"The results in terms of disarmament have been very limited so far," the draft reportedly said. But Mr Blix had said earlier this week this issue would be a key test of Iraq's cooperation.
Mr Blix delivered the final version of the report to Secretary-General Kofi Annan late Wednesday.