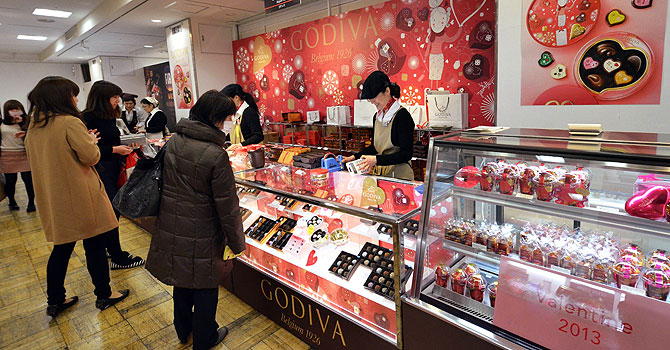 Japanese women buy chocolates at Tokyo's Takashimaya department store one day before Valentine's Day. —Photo by AFP
TOKYO: Japanese women packed out stores on Wednesday to buy Valentine's Day chocolates for all the men in their lives - partners, friends and bosses - while the men sat back with nothing expected in return.
The traffic in Japan is all one-way on February 14, with men free to sit back and wait for the boxes of goodies to pour in. A month from now, Japan celebrates White Day, when men are required to reciprocate with a white gift.
Chocolate has been available in Japan since at least 1797, when it was given to prostitutes by Dutch traders - the only Europeans allowed a foothold in an otherwise closed country where travelling abroad was punishable by death.
Today, more than anywhere else, Japan's $11 billion chocolate business is driven by special days confected by the advertising industry to get cash tills ringing. Fully half that total is spent in February, according to retailers.
"I'll buy some for my colleagues, but we all agreed not to buy fancy chocolates, or it would cost me a fortune," says Fumiko, a shopper who did not give her surname. "We all buy regular inexpensive chocolates."
Even so, the 40-year-old said she expected to spend around 10,000 yen (more than $100) on chocolates during her splurge at Takashimaya, a department store in Tokyo's upmarket Ginza district.
Not all men are treated equally. The more expensive "honmei" (true love) chocolate is reserved for the husband or lover.
Cheaper "giri" (obligation) chocolate goes to co-workers, from the guy who brings the mail to your desk all the way up to the boss of the company.
Inventive chocolate marketers, looking to squeeze even more yen out of a shrinking population, have now started selling "tomo" chocolate - treats that women buy for their female friends.
Takayuki Miyai, a sales manager at Takashimaya, says business was down last year in a market still depressed by the tsunami and nuclear disaster of March 2011, but this year looks a lot more promising.
Japan is the largest market for chocolate in Asia and accounts for a hefty slice of the world's pie, which consultancy KPMG says was worth about $100 billion in 2012.
A chocolatier of Japanese sweet shop Goncharoff puts the finishing touches to animal-shaped chocolates at Tokyo's Takashimaya department store. —Photo by AFP
At Takashimaya, an entire floor has been dedicated to Valentine's Day chocolates. The exhibition, called "Amour du Chocolat", is teeming with women eager to try the latest creations from international chocolatiers.
French brands cash in on their chic image, among them Pascal Caffet. On its stand, cork-shaped chocolates are the most popular offering. Filled with champagne and available in dark, milk, and raspberry-and-white flavours, a box of 12 comes in at 2,940 yen ($31).
Valentine's Day appeared in Japan as a special occasion in the late 1950s, as the economy was picking up steam after the long, lean years following World War II.
Western products gave an air of sophistication in a country bursting with energy and getting a taste for luxury and wealth after decades of bone-grinding austerity.
It was into this aspirational mix that companies hit upon the idea of marketing Valentine's Day, when a firm called Mary Chocolate began advertising February 14 as "the only day of the year a woman professes her love through presenting chocolate".
The rule was thus established and the underwear, jewellery or flowers given in other parts of the developed world were banished, leaving chocolate the sole currency of Valentine's romance.
Two decades after Valentine's Day took hold, White Day - March 14th - was introduced as a way to sell gifts to men, who were told they must buy something white for the ladies in their lives.
Initially, white marshmallows were de rigueur - on the back of some canny marketing by the marshmallow industry. Now, most things white are permitted.
Lingerie tends to sell best.
On Takashimaya's chocolate-filled floor, sales manager Miyai says he is expecting brisk business to continue through next month, and hopes that life in a department store, among all these women, will prove personally profitable.
"Until now, I wasn't exactly surrounded by women so I haven't received that much chocolate," he said. "But this year, I hope I'll get a lot."