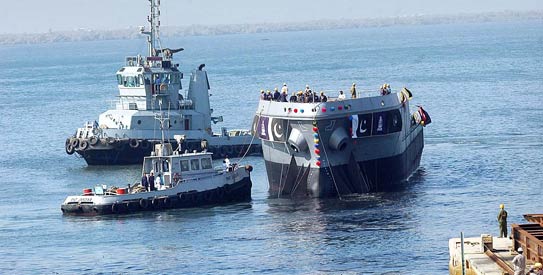 KARACHI: Bangladesh has delivered two small passenger ships to Pakistan on Monday. They were built at its shipyard at a cost of Taka 200 million.
These 30-metre-long and 6.18meters-wide ships have a carrying capacity of 215 passengers and 10 crew members.
According to sources, the handing-over ceremony of the ships took place in Chittagong in which Bangladesh Minister for Industries Dilip Barua was the chief guest. The general manager operations Karachi Port Trust Rear Admiral Azhar Hayat received the ships on behalf of KPT in the presence of Pakistan High Commissioner Afrasiab Mehedi Hasmi.
The Western Marine Shipyard of Bangladesh won the contract of building the ships through an international bidding in which builders from Pakistan, India and Sri Lanka also participated. The managing director Western Marine Shipyard Sakhawat Hossain, speaking on the occasion, said the two ships had been built in record time after receiving the contract in October 2010.
Minister Dilip Barua said that for the first time Bangladesh had built and delivered two ships to a brotherly country Pakistan and this would be a hallmark for increasing trade among Saarc nations.
The KPT plans to use these ships for movement of staff from Manora to Karachi and for maintenance of its installations which becomes difficult in monsoon season when sea become rough.