KARACHI: Politics took a toll on the Pakistan Stock Exchange (PSX) on Friday as an alliance of main opposition parties took to the streets against the government.
As a result, the benchmark index failed to sustain its intraday high of 217 points and lost 243.04 points, or 0.53 per cent, to close at 45,578.36 points.
On the corporate result front, Pakistan Oilfields Ltd posted a 45pc increase in profits to Rs5.25 billion. Maple Leaf Cement Factory grew its quarterly income 51pc to Rs839 million while earnings of Attock Cement Pakistan Ltd increased 127pc to Rs271m.
Market participation increased 11.12pc to 300.68m shares on a day-on-day basis.
Sectors contributing to the benchmark index included cement (40.58 points), insurance (26.14 points), automobile parts and accessories (10.69 points), textile (4.82 points) and leather and tanneries (2.34 points).
Stocks that contributed significantly to the traded volume included Hum Network Ltd (35.86m shares), Unity Foods Ltd (22.53m shares), WorldCall Telecom Ltd (21.05m shares), Maple Leaf Cement Factory Ltd (15.27m shares) and TRG Pakistan Ltd (13.72m shares).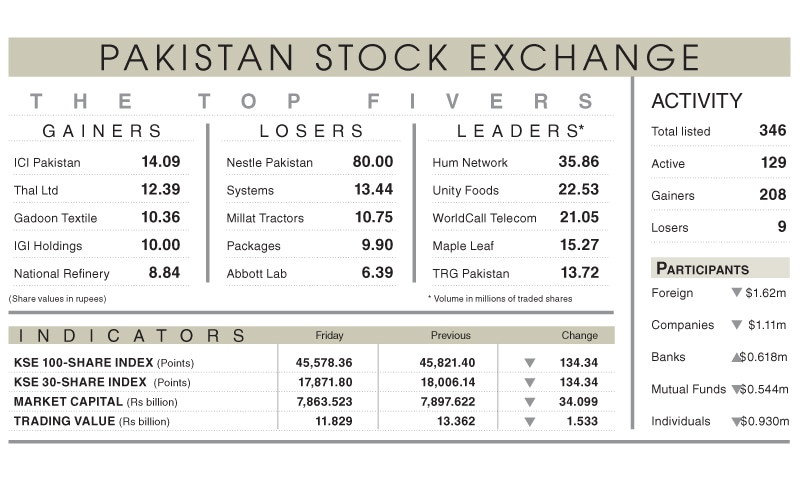 Stocks that contributed positively to the index included Habib Bank Ltd (34.47 points), United Bank Ltd (25.01 points), Adamjee Insurance Company Ltd (17.59 points), Cherat Cement Company Ltd (16.05 points) and Thal Ltd (10.69 points).
Shares that contributed negatively included TRG Pakistan Ltd (39.80 points), Engro Corporation Ltd (39.21 points), Pakistan Petroleum Ltd (35.65 points), Pakistan State Oil Company Ltd (28.42 points) and Oil and Gas Development Company Ltd (23.52 points).
JS Global said the market can continue its upward journey after completing its correction soon. "Therefore, investors are advised to avail any dips in the market as the buying opportunity stands mainly in blue-chip stocks," it added.
Foreign investors were net sellers as they offloaded shares worth $1.62m.
Published in Dawn, October 23rd, 2021