May 10, 2019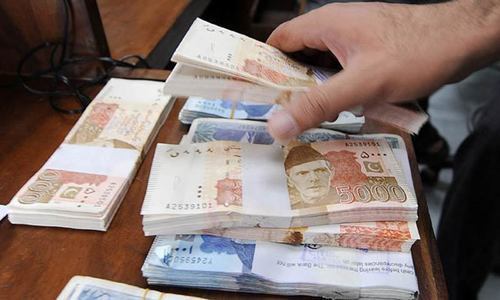 ISLAMABAD: Ahead of the wrap up on International Monetary Fund (IMF) bailout talks, the government on Thursday projected this year's fiscal deficit at 6.5-7 per cent of GDP amid criticism from a parliamentary panel over 'unprecedented surge in public debt' during this fiscal year.
Members of the National Assembly's Standing Committee on Finance and Revenue criticised the government for sidelining parliamentary forums on matters of national economic importance and instead randomly calling select members for interactions with the IMF mission.
Ahsan Iqbal said he declined attending a so-called meeting with IMF because chairman and other members of the standing committee were bypassed while Dr Ayesha Ghous-Pasha said she only attended it because she was there by chance.
A senior official told Dawn that the government and IMF mission were 'scheduled to conclude' the negotiations on Friday on a possible bailout but there was 'still a tug of war going on' and most of the headline numbers were in fluid form. He said three friendly countries — China, Saudi Arabia and UAE — would give policy statements to roll over their debts on maturity before IMF executive board meeting formally approves Pakistan's package for three years.
Govt criticised for not taking parliament on board in IMF talks
According to him, there was no meeting of IMF mission on Thursday with Finance Adviser Abdul Hafeez Shaikh, who would probably join on Friday. "There is IMF on both sides of the table," quipped the official when asked as to who was then leading the government side in policy level talks and explained that new governor State Bank of Pakistan was negotiating from the government side.
He said the newly appointed chairman of Federal Board of Revenue Syed Shabbar Zaidi also had an engagement with the IMF mission on Wednesday before his formal notification was issued.
The committee raised questions over the recent reshuffle of the government's economic team and wanted answers over the selection process directly from the political leadership. Faizullah said such crucial appointments should have had input from parliamentary committees like NA's Standing Committee on Finance and Revenue.
The meeting was informed by senior officials of the finance ministry that total public debt stood at Rs6.2 trillion or 58.4pc of GDP at the end of FY08, which increased to Rs14.29tr or 63.8pc of GDP by 2013. It was reported that total public debt increased to Rs24.95tr or 72.5pc of GDP at FY18 end and reached Rs28.61tr at end-March 2019 or 74.5pc of GDP.
Members of the committee particularly Syed Naveed Qamar, Ahsan Iqbal, Aysha Ghous-Pasha, Hina Rabbani Khar, Nafisa Shah and Qaiser Shaikh were unanimous that total public debt had increased the most in last nine months and wanted a breakdown of devaluation impact, current expenditure overrun and revenue shortfalls in debt build-up of Rs3.6tr in 9MFY19.
Special Secretary Finance Umar Hameed Khan said about Rs1.4tr debt increase was the result of devaluation. He said the budget estimates were still in process but next year's fiscal deficit would be around 6.5 or 7pc while debt-to-GDP was estimated to fall below 65pc in five years from existing 74.5pc.
Khan said dwindling reserves, high current account deficit, heavy borrowing and economic meltdown were some of the reasons behind the growth in debt as multilateral agencies stopped releasing policy lending and the government had to rely on domestic expensive borrowing.
The government side explained that high interest rate prevailing at present were expected to come under once the IMF programme is in place and would return to normal in about one and a half years.
Published in Dawn, May 10th, 2019