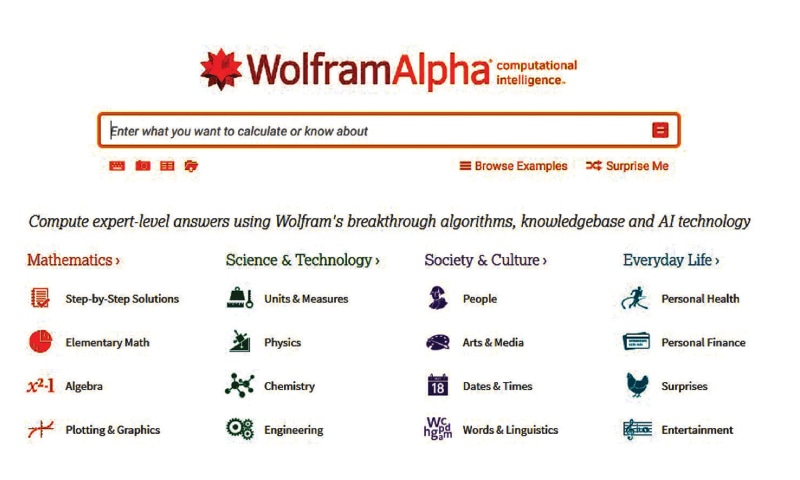 During the academic year, we often face various problems related to our studies. Some get solved and some remain unsolved or unexplained for a very long time until someone answers all our queries related to that problem. And if you are one of those still having questions specific to any subject or topic, then www.wolframalpha.com will answer and solve your problem in just a couple of seconds.
Wolframalpha is a website with millions of pages of information related students' educational needs. In short, it is a storehouse of curated data that answers kids' questions. The site, when open, looks and feels like a search engine with a search bar in the middle of the homepage, but it is not a search engine. Why? Because a search engine brings pages of information from websites related to the terms you use in the search bar; while Wolframalpha uses natural language processing technology, part of the AI family, which can't interpret every question so you have to use simple English and math problem or to be precise in the choice of your words like 'what', 'when', 'where', 'why' or 'how many' when inserting a query.
The site has sections related to academics, including engineering, physics, chemistry, maths, stats, algebra, words and linguistics and non-academics like people, personal health, dates and times, household science, transportation, earth science, hobbies, today's world, entertainment, etc.
You can write your question in the search bar or go through a specific section by selecting it which further opens its sub-categories. The answers provided by the site are downloadable and you are also given the option to share.
Although it's a free site to get answers, those who want step-by-step solutions to their questions must switch to paid subscription.
To get answers to your queries, visit: www.wolframalpha.com
Published in Dawn, Young World, December 8th, 2018