Fourteen independent senators who were backed by the ruling PML-N in the elections for the upper house held earlier this month have decided to join the treasury benches, it emerged on Thursday.
The fifteenth PML-N-backed senator who opted to sit on the treasury benches is Dr Asad Ashraf, who was elected in a by-election on a seat vacated after the disqualification of former senator Nehal Hashmi.
According to a notification issued by the Senate Secretariat, two independent senators from Fata have also decided to join the treasury in addition to the 15 PML-N-backed senators.
Former finance minister Ishaq Dar, who was also elected in the March 3 Senate elections as a PML-N-backed independent from Punjab, was not named in the notification as he has not taken the oath as a senator.
Meanwhile, 11 independent senators, including six from Fata, have decided to sit on the opposition benches.
The choices made by 28 independent senators about joining the treasury or opposition are as follows:
---
Treasury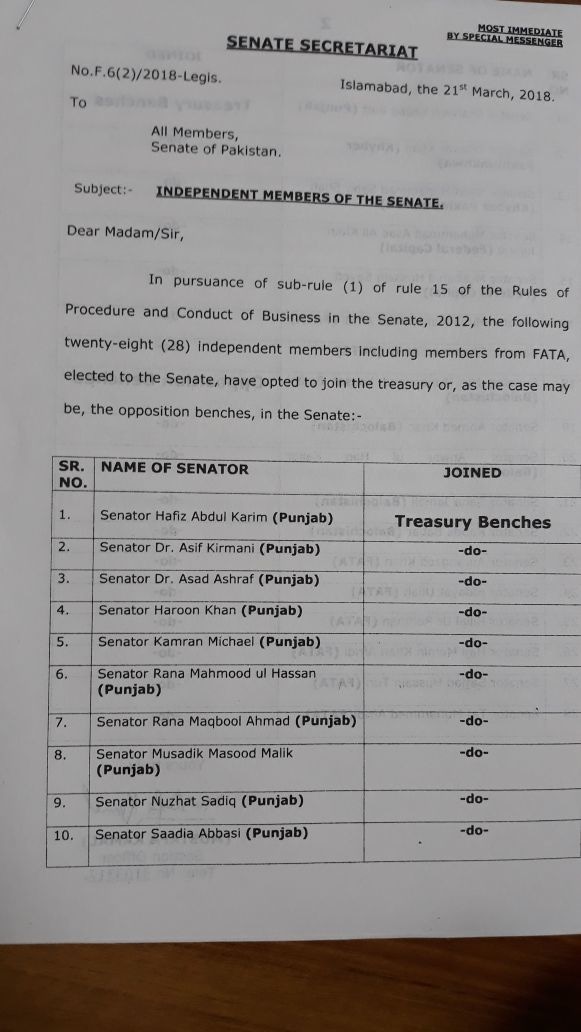 2 senators from Khyber Pakhtunkhwa

2 senators from Islamabad

2 senators from Fata
Opposition
5 senators from Balochistan

6 senators from Fata
---
Meanwhile, six independent senators from Fata have formed a group and nominated Senator Aurangzeb as their leader, according to a separate notification.
Days before the Senate elections took place on March 3, all PML-N nominees were declared independent by the Election Commission of Pakistan (ECP). The decision was taken in the aftermath of the Supreme Court verdict which removed Nawaz Sharif from his post as party head and nullified all official party decisions he took following the July 28, 2017, Panama Papers judgment.
The ruling party won the expected 15 seats in the elections despite having suffered a major setback in Balochistan, while the PPP pulled off a surprise win on 12 seats which with the likely support of independent candidates may further allow it to consolidate its position in the upper house.
Besides the 15 candidates backed by the PML-N, 12 PPP, 10 independent, six PTI, two candidates of the Jamiat Ulema-i-Islam-F, Pakhtunkhwa Milli Awami Party and National Party each, one candidate from each of the MQM, Jamaat-i-Islami and PML-F had returned successful on 52 of the 104 Senate seats.