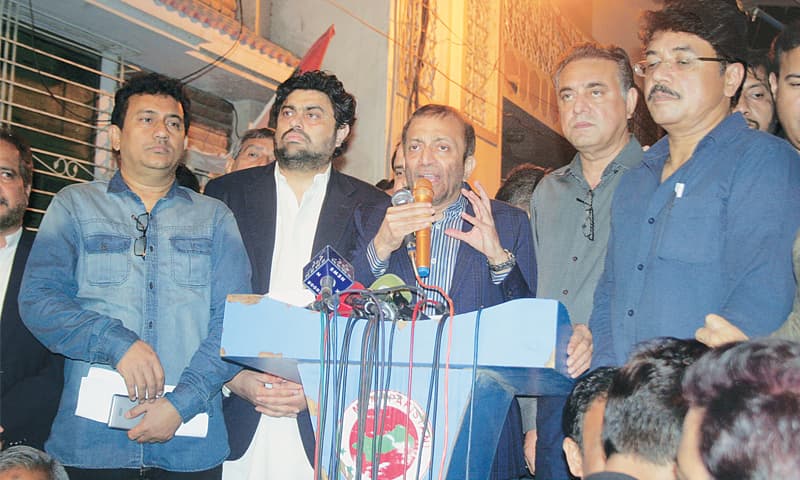 KARACHI: In a bid to steer the Muttahida Qaumi Movement-Pakistan out of the present quagmire, saner elements within the party's Bahadurabad camp on Saturday decided to defer to Dr Farooq Sattar's wishes, rejecting the views of some hawks seeking to enforce the infamous minus-one formula.
However, it appears that Dr Sattar was not impressed with the decision they personally communicated to him in the evening as he insisted on picking altogether new faces for March 3 Senate elections.
The party crisis over distribution of Senate tickets continued on a fifth consecutive day with the two sides — one led by Dr Sattar and the other by Amir Khan — getting ready for a final showdown. As Dr Sattar called a workers' convention on Sunday (today) and announced issuing show-cause notices to some coordination committee members for holding "unconstitutional" party meetings, his opponents mulled over his removal by a two-thirds majority.
Agrees to withdraw letter written to ECP seeking to take back from Sattar powers to award election tickets
But the situation changed dramatically on Saturday evening when it appeared that a breakthrough was just moments away as the Bahadurabad camp decided to take back their Friday decision through which they had strip­ped Dr Sattar of his ticket-awarding powers.
MQM-P deputy convener Kanwar Naveed Jameel told a press conference that the party was going to withdraw a letter they had written to the Election Commission of Pakistan for delegating powers of awarding party tickets to Dr Khalid Maqbool Siddiqui. He said Dr Sattar agreed to visit the Bahadurabad office if the letter was withdrawn. He said that the decision was taken on the advice of "our elders who asked us to accept Dr Sattar's demand for [the sake of] party's unity".
When Amir Khan was called to share his thoughts with the media on the issue, he burst into tears and claimed that he had never wanted any office in the party. He said an impression was created that it was a fight between him and Dr Sattar and he wanted to occupy the party.
Mr Khan recalled that he had ignored the murder of his 28-year-old "son", who was killed because of "this [in]fighting", and rejoined the MQM while apologising for his past actions in the presence of 5,000 people just for the sake of the party's unity.
With teary eyes, he announced that he would never accept the position of party convener. Mr Khan was in prison when his young nephew was shot dead in Gulistan-i-Jauhar in March 2011.
Later, he along with three deputy conveners of the MQM-P's Bahadurabad camp went to PIB Colony and met Dr Sattar. After the meeting, Dr Sattar told the media that he asked the four senior leaders that the whole party should withdraw from the Senate contest if "we would not arrive at a consensus" over the names of candidates for the March 3 election.
He suggested that a formula could be evolved to finalise four names out of the 17 nominations for Senate seats to avoid those who became controversial due to one reason or the other. "I am hopeful that we will resolve the issue," he said.
He, however, made it clear that he was not immediately going to the Bahadurabad headquarters. "I will take a flight to Bahadurabad as soon as coordination committee agrees to that," he said in a lighter vein.
Dr Sattar said it was neither an issue of awarding Senate ticket to Kamran Tessori nor about anyone's ego. He said he tried his best to avoid a split within the party and he was firm on his decision to hold a workers' convention on Sunday while expressing the hope that "everyone" would attend the programme.
A total of 17 nomination forms were submitted by the two groups within the MQP-P. The coordination committee had finalised names of Nasreen Jalil, Dr Farogh Nasim, Aminul Haq and Amir Chishti as their candidates, but now Dr Sattar has been asked to finalise the names with consensus.
PSP man returns to MQM-P
Saturday also saw the return of MNA Salman Mujahid Baloch to the MQM fold. Mr Baloch had in December joined the Mustafa Kamal-led Pak Sarzameen Party after the MQM-P expelled him for violating party discipline.
Mr Baloch — the first one within the MQM-P who had disclosed that the party had split into two groups — met Dr Sattar at his PIB Colony residence and assured him of his full support at this juncture.Claiming that he had great respect for PSP President Anis Kaimkhani, Mr Baloch also invited him to rejoin the MQM.
However, he was critical of Amir Khan and urged other coordination committee members to leave Mr Khan and join Dr Sattar.
Later, Dr Sattar told a TV programme that Mr Baloch, an MNA from a Karachi constituency (NA-239), had "left us because of some misunderstanding".
Published in Dawn, February 11th, 2018