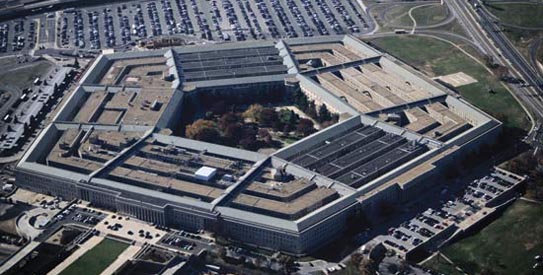 WASHINGTON: The US military will press ahead with its war effort in Afghanistan despite Pakistan's decision to cut off supplies to Nato-led forces after lethal air strikes, the Pentagon said Monday.
Pakistan promptly sealed its border with Afghanistan to Nato supplies after allied strikes killed 24 Pakistani soldiers near the border on Saturday.
"The war effort continues," press secretary George Little told reporters.
Asked how long US and coalition forces could operate without supplies from routes running through Pakistan, he said: "I don't have a time line to share. But the important point to focus on is the war effort will continue. Everyone realizes we have an enemy to engage in Afghanistan and the US military is prepared to carry on." Nearly half of all cargo bound for Nato-led troops runs through Pakistan.
Roughly 140,000 foreign troops, including about 97,000 American forces, rely on
supplies from the outside for the war in Afghanistan.
But the United States also depends on Islamabad's tacit cooperation to wage war against al Qaeda and Taliban militants inside Pakistan, with the CIA carrying out an intense campaign of air strikes using unmanned drone aircraft.
The top US and Nato commander in Afghanistan, General John Allen, has asked US Central Command to lead an investigation into the air strikes, Little said.
The American military's Central Command oversees US forces in the Middle East
and Afghanistan.
The Nato-led International Security Assistance Force (Isaf) sent an initial assessment team over the weekend to the border to collect facts surrounding the incident, he said.
Both Allen and the military's top-ranking officer, General Martin Dempsey, spoke to the Pakistani army chief, General Ashfaq Kayani, about the incident, he said.
"Obviously they did express their condolences and regrets but I think everyone realizes the facts need to be collected, analyzed and that the investigation needs to unfold," he said.
The Pentagon spokesman also said he could not confirm reports that Pakistan had banned US government aircraft or ordered the CIA out of the Shamsi air base, which has reportedly been used for US drone strikes against militants.
"I'm not aware of any US military personnel at that base," Little said.
After the air strikes, Pakistan's cabinet ministers and military chiefs ordered the United States to leave the Shamsi air base within 15 days.
The remote desert outpost in southwest Pakistan is reportedly used as a hub for covert CIA drone strikes, which Islamabad previously told the United States to leave in June.
The role of the air base remains unclear as the CIA also uses air fields in neighbouring Afghanistan to stage missile attacks with unmanned robotic planes against suspected al Qaeda and Taliban militants.