• Gen Asim Munir new COAS-designate, Gen Sahir Shamshad Mirza made chairman joint chiefs of staff committee
• Gen Munir becomes first army chief hailing from Officers Training School, Mangla
• Appointments notified following PM-Alvi meeting; president signs summary after huddle with Imran
• Both men given immediate promotions to four-star rank due to technical hitch posed by Gen Munir's retirement date
ISLAMABAD: Gen Asim Munir, a soldier with considerable operational experience and a career steeped in intelligence, was designated as the country's 11th army chief on Thursday, after weeks of intense speculation about who will lead the powerful military following Gen Qamar Javed Bajwa's impending retirement.
Gen Sahir Shamshad Mirza, another infantry officer with an enviable career, has been appointed as the chairman of the joint chiefs of staff committee.
The two officers were also promoted from the rank of lieutenant general to that of four-star general.
A statement by the presidency notifying the new military leadership said President Arif Alvi had made these "promotions and appointments under Article 243(4) (a) and (b) and Article 48(1) of the Constitution of the Islamic Republic of Pakistan read with Sections 8-A and 8-D of the Pakistan Army Act 1952."
Prime Minister Shehbaz Sharif had, during a meeting held earlier in the day, advised President Alvi to make the appointments.
It was initially speculated that President Alvi could return the prime minister's advice for reconsideration because of Pakistan Tehreek-i-Insaf's reservations, but the process concluded without any delay.
On Thursday, President Alvi also made a brief trip to Lahore, where he held a nearly 45-minute-long discussion with PTI chief Imran Khan on the issue and signed the summary for appointment immediately upon his return to the capital.
It remained unclear what caused PTI's change of heart and Mr Khan's decision not to push ahead with a confrontation on this issue confounded many observers. Though Mr Khan had no role whatsoever in the appointment, he could have made the decisions look controversial by challenging them, as per earlier threats.
Gen Munir will succeed Gen Bajwa, who is retiring on Nov 29. Gen Mirza will replace Gen Nadeem Raza, who is bidding a farewell to arms on Nov 27.
Immediate effect
Though promotions usually take effect from the date of assumption of command, but because of the technical hitch of Gen Munir's impending retirement on Nov 27, both men were given promotions with immediate effect. Therefore, the next few days would be rare as there would be four serving four-star generals in the country — though the number of positions of generals in Pakistan Army isn't fixed.
Soon after the notification of their promotion and new appointment, Gen Munir and Gen Mirza called on Prime Minister Shehbaz Sharif and President Arif Alvi.
PM Sharif praised Gen Munir's "professional excellence and patriotism" and hoped that armed forces would benefit from his "professional expertise", according to the Prime Minister's Office.
The PTI also congratulated both officers on their appointment.
After the cabinet meeting, the media had speculated that the rules regarding the appointment of services chiefs would be tweaked to accommodate Gen Munir. However, a cabinet source later dismissed the notion, insisting that he was "retained" and "appointed" under existing regulations.
Gen Munir will assume charge amid intense political polarisation in the country and inherit an army image battered by controversies.
His predecessor, Gen Bajwa, had a day earlier said the military received flak for its "involvement in politics" over the past seven decades. He also stated that the army had decided to stay out of politics — a decision, which, according to him, was taken in February 2021.
However, analysts seemed skeptical over whether Gen Bajwa's successor would keep his pledge.
PROFILES:
Gen Asim Munir
Gen Asim Munir entered the service via the Officers Training School (OTS) programme in Mangla, where he undertook the 17th Officers Training Course and was commissioned into the 23 Frontier Force Regiment in 1986. He was awarded coveted Sword of Honor of his course. He has been a close aide of the incumbent COAS ever since he commanded troops in the Force Command Northern Areas as a brigadier under Gen Bajwa, who was then Commander X Corps. As major general he was first posted as Force Commander Northern Areas (FCNA), the division deployed along the forward lines at Siachen.
He was later appointed DG Military Intelligence in early 2017, and in October next year was made the ISI chief. However, his stint as the top intelligence officer turned out to be the shortest ever, when he was abruptly replaced by Lt Gen Faiz Hamid within eight months, on the insistence of then PM Imran Khan. He was posted as Gujranwala Corps commander, a position he held for two years, before moving to the GHQ as Quartermaster General. He has done a staff course from Fuji School Japan, and later from Malaysian Armed Forces College Kuala Lumpur, and graduated from National Defense University. At some point in his career he also served as defense attaché in Saudi Arabia.
He is first army chief to have headed both MI and ISI, and also the first army chief who served as QMG, and first army chief from the OTS programme. OTS-trained officers from 1950 to 1990, but most of its graduates ended up at the ranks of major or colonel in the army with very few rising to the rank of brigadier.
General Sahir Shamshad Mirza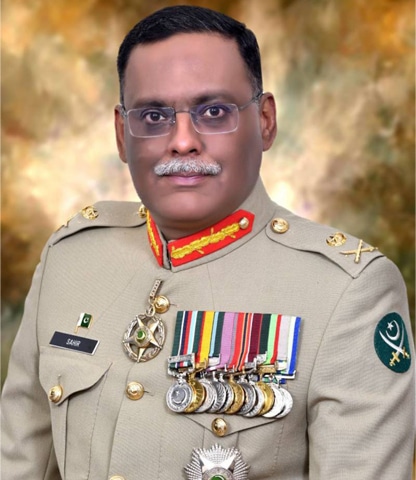 General Sahir Shamshad Mirza has had an impressive career in the army. He was commissioned into the army after passing out from PMA's 76th Long Course in 1987. He joined the Sindh Regiment. Gen Mirza has a vast experience of serving in senior leadership position during past seven years. He came to prominence as director-general military operations (DGMO) during the last two years of Gen Raheel Sharif's tenure. In that role, he was part of Gen Sharif's core team at GHQ, which supervised the military operation against the Tehreek-i-Taliban Pakistan (TTP) and other militants in North Waziristan.
Further, he was closely involved in the Quadrilateral Coordination Group (QCG) that brokered intra-Afghan talks involving Pakistan, China, Afghanistan and the United States. Besides, he was also a member of the Sartaj Aziz-led committee on reforms for Gilgit-Baltistan. Prior to serving as DGMO, Gen Mirza commanded 40th Infantry Division in Dera Ismail Khan. The division has now moved to Okara. Later he also served as Vice Chief of General Staff (VCGS-A). Besides, he has served in United Nations-led operations in foreign countries and was conferred with UN Medal for Service in Sierra Leone (UNOMSIL Medal).
After his promotion to the three-star rank in April 2019, he was initially appointed as adjutant general and later as chief of general staff, effectively making him the second-most powerful person in the army after the COAS. In that role, he was closely engaged in crucial decision-making related to national security and foreign affairs. He also joined former foreign minister Shah Mehmood Qureshi in strategic talks with Chinese Foreign Minister Wang Yi in 2021. In October 2021, he was posted as Corps Commander Rawalpindi to enable him to acquire operational experience and become eligible to be considered for the top posts.
Published in Dawn, November 25th, 2022