'Godzilla' lizard found climbing on home's window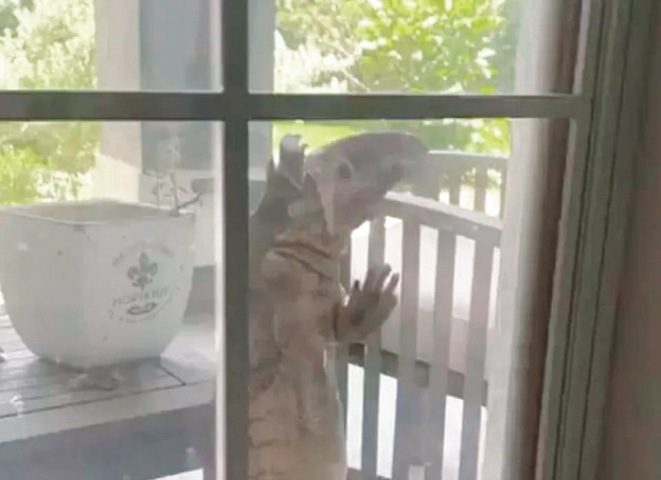 Jocelyn Penson posted the video to Facebook, filmed at the home of her son, Frank Crowder, in Apopka, Florida, showing a large monitor lizard climbing on a window.
The lizard was apparently attempting to find its way into the house. The reptile ended up flopping off the window and down to the ground.
Penson's family thought the animal was a tegu lizard, but Ron Magill, a wildlife expert with Zoo Miami, said the reptile is a water monitor lizard from Sub-Saharan Africa. The lizard was likely a former pet that either escaped or was abandoned into the wild by its owner.
Bargain hunter finds 700-year-old mediaeval document
A bargain hunter who went to an estate sale in Maine walked away with a 700-year-old treasure. Will Sideri stumbled upon a framed document hanging on a wall, with elaborate script in Latin, along with musical notes and gold flourishes. A sticker said 1285AD. And it was a bargain at $75.
Academics confirmed the parchment was from The Beauvais Missal, used in the Beauvais Cathedral in France, dated to the late 13th century and used in Roman Catholic worship. It was part of a prayer book and priests' liturgy.
An expert on manuscripts said the document could be worth as much as $10,000. After spying the unusual manuscript, Sideri contacted his former Colby College professor, who, along with another academic, confirmed the authenticity.
Giant 'once in a lifetime' 14-foot long alligator caught
Hunters in the United States have killed a 14-foot "once in a lifetime" alligator as part of this year's hunting season in Texas.
Taking to Facebook, James E. Daughtrey Wildlife Management Area shared a photo of the hunters posing alongside the dead alligator. In the caption, the officials informed that the male alligator weighed 781 pounds (about 345 kg) and was 14 feet, 2.5 inches long.
Male alligators tend to be around 11.2 feet long and the largest alligator ever caught was 15 feet, 9 inches — caught by an Alabama woman in 2014.
World's longest hopscotch course at Colorado park
A campaign encouraging kids to play outdoors broke a Guinness World Record by creating a 4.37-mile-long hopscotch course.
Generation Wild Colorado, a campaign created by Great Outdoors Colorado to encourage outdoor play, created the hopscotch course near the swim beach at Chatfield State Park in Littleton.
The course was measured at 4.37 miles long, breaking the previous Guinness World Record for longest hopscotch game.
The previous record was set by Georgia Tech students in April of this year.
The hopscotch course is now open to the public.
Published in Dawn, Young World, October 1st, 2022