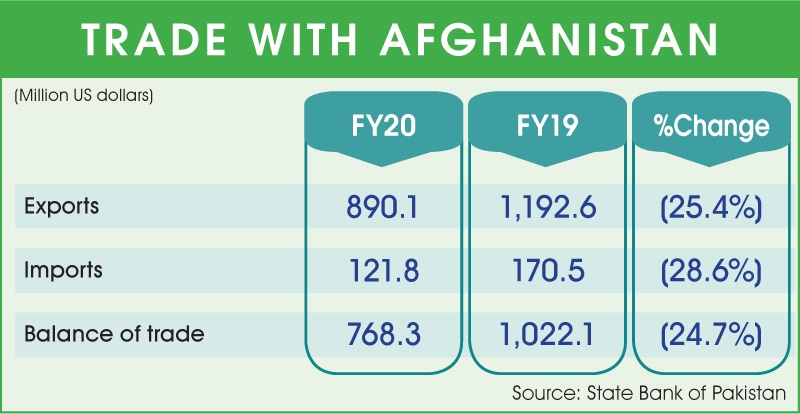 KARACHI: Commerce Adviser Razak Dawood on Monday said Pakistan's exports to Afghanistan during July-April 2021 have grown by 15 per cent to $869 million from $754 million a year ago.
"MOC [Ministry of Commerce] is glad to share that Pakistan's exports to Afghanistan during Jul-Apr 2021 have grown by 15% to USD 869 million as compared to USD 754 million during Jul-Apr 2020. The exports of Fruits, Vegetables, Meat, Dairy products, Chemicals, Electrical equipment, Machinery, Paper & Paperboard have contributed to this increase. We continue to encourage legal, secure, transparent, consistent & reliable trade with Afghanistan. Exporters are urged to aggressively market their exports to Afghanistan. We also commend the efforts of MOC's Trade & Investment Counsellor & urge him to provide even greater facilitation to our exporters," Mr Dawood said in a series of posts on social media platform Twitter.
His comments came the day Pakistan's army chief, Gen Qamar Javed Bajwa, went to Kabul and met top officials including Afghan President Ashraf Ghani.
In an interview to Bloomberg the same day, Mr Dawood said the country was seeking more trade with Afghanistan and Central Asia countries including Uzbekistan, Tajikistan, Turkmenistan, Kyrgyzstan and Kazakhstan.
As the country aims to expands its trade footprint — from less than a billion dollars in the last ten years to some $1.5bn a year, a new trade pact with Kabul is expected in June.
The adviser acknowledged that the country was restricted to a "few countries" when it came to trade.
"We're too restricted to a few countries — North America, European Union and China. But there is a much bigger world," the adviser said in the interview.
Meanwhile, the top trade and industry body expressed cautious optimism over the development.
Responding to Dawn, Federation of Pakistan Chambers of Commerce and Industry President Mian Nasser Hyatt Magoo said: "I do not think that the US will depart from Afghanistan so easily by September 2021."
"Boost in trade will depend on peace in the area, clearance of land routes and hassle-free movement of trading goods after withdrawal of US troops," he said.
"The figure will cross $1.5bn if trading routes are cleared and peace prevails after US troops exit during September," he said, adding that border trade of any country holds 70-75 per cent of the country's total trade.
"We have some good examples of trade between European Union countries and Asean countries. Pakistan has a good chance to multiply its trade with Central Asian countries and Afghanistan."
The FPCCI chief noted that Pakistan's export to Afghanistan had inched up to $869m during July-April 2020-2021 which was $754m in the same period last fiscal due to improvement in goods clearance at the border.
Previously, trucks loaded with goods were held up for 10 days for clearance. He recalled that Pakistan's exports to Afghanistan hovered between $1.5-2bn dollars some 10 years back.
Published in Dawn, May 11th, 2021
Now you can follow Dawn Business on Twitter, LinkedIn, Instagram and Facebook for insights on business, finance and tech from Pakistan and across the world.