'Horse girl' runs and jumps on all fours
A Canadian teenager, whose skills at emulating the movements of a horse — including quadrupedal jumps — went viral online recently.
"Horse girl" Ava Vogel, 17, of Edmonton, said she started emulating the movements of horses about six years ago and three years ago she turned her attention to jumping on all fours like an equine.
"I would look at actual videos of horses and I rode horses myself so I figured out how the horse moved and I would transfer that over to the human skeleton to figure out how I could apply that to myself," Vogel told.
"It took a lot of training and repetition to be able to build up the proper muscles and a lot of stretching so my wrists were strong enough to handle the impact," she said.
The teenager has gone viral online for her Instagram videos showing her clearing obstacles more than three feet high.
---
Longest graphite chain from single pencil
An artist in Taiwan was awarded a Guinness world record for an unusual piece of sculpture — a chain of 168 links carved from pencil graphite.
Lee Chien-chu originally held the record for most chain links carved from pencil lead (graphite) in 2019 when he created a chain from 101 tiny links, but lost it earlier this year to an Indian artist whose chain featured 126 links. Lee is now once again the holder of the record after he altered his carving technique to get 168 chain links from a single pencil.
The chain is on display at the National Centre for Traditional Arts in Yilan.
---
Record 125 scoops on an ice cream cone
An Italian man, who once held the Guinness World Record for most ice cream scoops balanced on a cone, recaptured his record on a TV special.
Guinness said Dimitri Panciera originally captured the record in 2013, when he balanced 85 scoops of ice cream on a single cone.
The record was captured by Ashrita Furman, who upped the ante with 123 scoops. Panciera recaptured his record during filming of La Notte dei Record, a Guinness TV special in Italy. He topped the record with 125 scoops.
The ice cream was then served by the spoonful to the special's studio audience.
---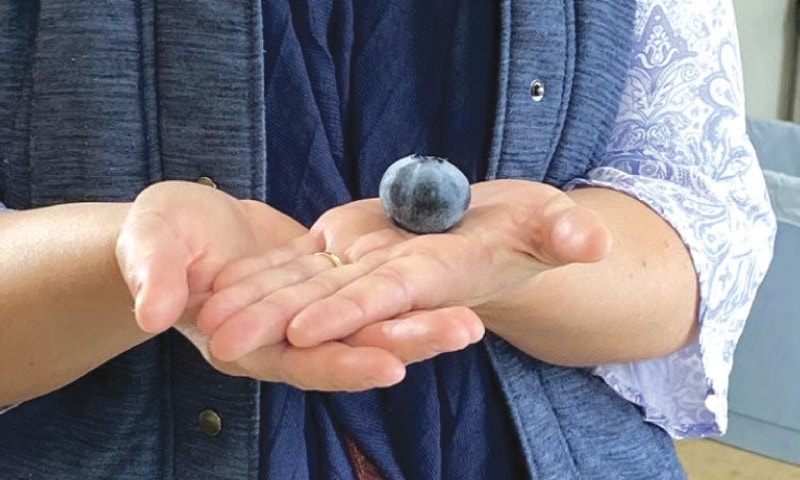 World's heaviest blueberry!
An Australian couple were awarded a Guinness World Record for growing the world's heaviest blueberry.
Guinness confirmed the blueberry grown by David and Leasa Mazzardis, founders and owners of the Nature's Select breeding programme in Wilbinga, Western Australia, set a new world record at 0.57 ounces.
The berry has a diameter of 1.4 inches. The Mazzardis said they did not set out to grow unusually large blueberries, but the size of the fruit is a side effect of breeding the Ozblue variety of blueberries for traits related to taste and texture.
Published in Dawn, Young World, October 24th, 2020