Gigantic cloth shopping bag breaks Guinness record
An eco-friendly shopping bag company, The Cotton Bag Co., teamed up with digital marketing agency Varn and students at Fitzmaurice Primary School in Bradford-on-Avon, England, and created a reusable shopping bag measuring 73.8 feet wide and 47.9 feet high.
The bag, made from vegetable fibre jute, was confirmed larger than the previous record holder, which was created in Saudi Arabia.
The Cotton Bag Co. said the bag, which is large enough to fit 1,898,794 water bottles, will be cut into smaller pieces in the coming weeks so the students can use them to make smaller shopping bags and pencil cases.
---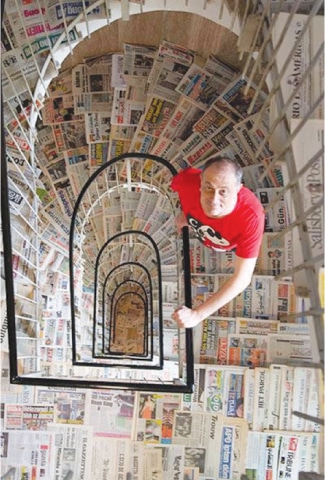 Largest newspaper collection
An Italian man, who has been collecting newspapers since he was only 10 years old, was awarded a Guinness World Record for his collection of 1,444 different titles.
The record-keeping organisation said Sergio Bodini possesses 1,444 dif­ferent news­paper titles from 115 different countries, earning the record for largest collection of newspapers of different titles.
Bodini said his collection began when he was only 10 years old and he now keeps his papers in plastic boxes in a temperature-controlled cellar.
"When I was in school we had a class project about newspapers and I fell in love with journalism. My dream was to become a sports journalist ... but I eventually ended up being a chemist," Bodini said.
---
World's largest paper ball fight
Recently, officials in a Kentucky city said they broke a Guinness World Record when 657 people gathered to participate in the world's largest paper ball fight.
Morgantown hosted the record attempt as part of its annual Catfish Festival. The balls of paper were tossed by a total 657 people, Mayor Billy Phelps said.Guinness adjudicator Phillip Robertson was on hand to confirm the previous record of 283 people, set in Canada in 2015, had been defeated.
Phelps shared photos on Facebook of the moment Robertson awarded a certificate for the new record.
---
Woman eats record 32 burgers
Competitive eater Molly Schuyler finished 32 burgers within 10 minutes in the 10th Annual Z Burger Eating Championship, breaking the 27-burger record she set last year and taking the champion title for the fifth time.
The event took place at the Tenleytown location of the local chain and is one of the biggest burger-eating competitions and a must-attend race for professional eaters nationwide. Men and women were entered in the contest to see who could eat the most burgers in 10 minutes.
The audience was shocked by how much food Schuyler, a 40-year-old from Plumas Lake, Calif., could consume. But she said it's her job to win.
Among the 16 contestants, 10 were first-timers. While most of the newcomers try to empty their stomachs for the competition by not eating anything beforehand, the veterans do not worry so much.
"Me and two other competitors went out, and we got 30 McMuffins and three dozen Dunkin Donuts," said Schuyler, describing her breakfast.
Schuyler has won the La Costena Jalapeno Eating Contest, and took second place in the Gringo Bandito Taco Eating Contest and second place in a pizza eating contest before turning to burgers.
Published in Dawn, Young World, July 20th, 2019