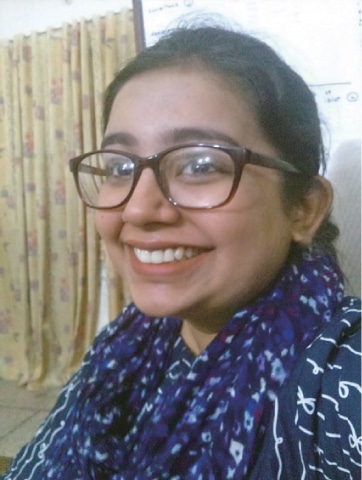 At first glance her paintings seem still and silent but the moment you start making a dialogue with them, they begin to tell stories, the stories of mundane rustic life and human existence.
Gifted with extraordinary skills to draw and paint, promising young painter Sana Saeed doesn't remember when she created her first image. She considers image-making as a phenomena she is born with.
"Like other children, I was provided with crayons and colours to play with but I got hooked to them and drawing became a passion for me. I hardly remember playing with any toy during my childhood," she says.
A blue-eyed of her grandmother who was a voracious reader, Sana was exposed to a major chunk of Urdu literature at a tender age.
"I was raised with books and a music collection of my grandmother. She would sing Punjabi Naats, Heer Waris Shah and Qissa Yousaf Zulekha and taught me the basic singing. She groomed me by asking to read the newspaper for her, do the research work and write essays on the partition of Punjab in 1947 and lives of prominent political and literary personalities. I developed a habit of reading and now I can't think of a day without reading."
Sana's grandmother shared her first-hand experiences of migration from East Punjab with her which was traumatic. She says it was different from what Sana and her fellows were taught in textbooks, a shallow glorification of a very painful episode of history.
"I am interested in writing and painting it if I could manage to find some good research work on the Partition. Unfortunately, what state-sponsored historians wrote about is nothing but one-sided propaganda to create religious hatred. It is in sharp contrast to what the people actually faced on both sides of Punjab in 1947," she says.
Being from a very conservative family, she struggled hard to opt for visual arts as a profession and join the National College of Arts, Lahore.
"I was interested in learning classical sculpture. The academic trend to teach only the modern sculpture in foundation course was torturous. Considering my comfort to draw skillfully, I opted for painting," she says while giving her reason to go for painting.
With a solo show and 10 group shows to her credit, Sana is currently working as a fulltime artist in her small studio in Lahore. Her works portraying human figures and drapery are well received by the art collectors in Pakistan and abroad.
"During academic studies, I could not afford models to pose for my paintings. While sketching Maa Ji (grandmother) I came to realise that the visuals become rich in emotional content when one portraying the subjects close to the heart. After she passed away, I found her presence and expression in her dresses and belongings," she talks fondly about her grandmother who was a great influence in her life.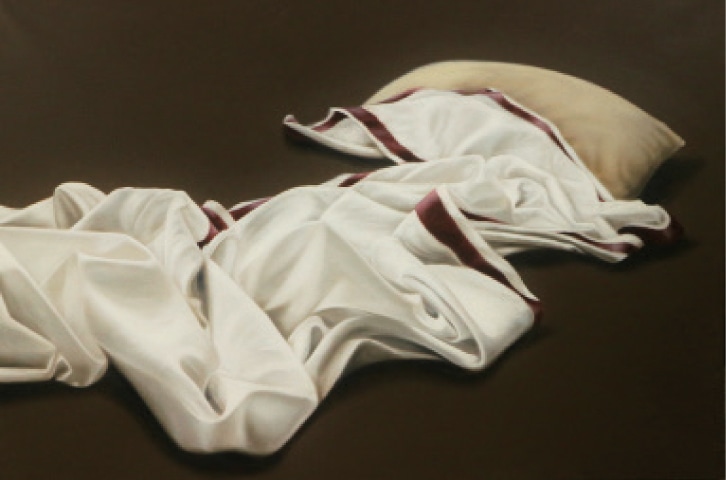 Sana laments the limitation of viewership in art galleries, saying that visual arts in Pakistan are confined only to art galleries and a certain class and there is no trend of making or displaying art in public spaces. She was moved by an artwork addressing the sectarian violence, displayed at Lawrence Gardens by Awami Art Collective a few years back.
From priming the canvas to finishing strokes, Sana Saeed handles her works in a passionate way. These monochromatic works are developed gradually applying multiple layers of thin paint. Despite the detailed rendering of the objects, the expression remains mellow and sublime, she seems to have a liking for blurring the dreams with reality and providing the viewers with a space to relate themselves to the artworks in a personal manner. In a way, this is a postmodern attitude as the artist has an interesting way of representing fast-changing contemporary world. Her serial realistic images become strange when a new image of the series emerges. She treats reality as something which is still in the process of becoming real, uncovered, yet to be disclosed.
Published in Dawn, July 1st, 2018