May 13, 2018
Once a symbol of love, Lal Haveli has now become a hub of politics in the garrison city, near synonymous with Awami Muslim League (AML) President Sheikh Rashid Ahmed.
The haveli was built over a hundred years ago by Dhan Raj Sehgal for Budhan Bai, a Muslim dancing girl from Sialkot.
The story goes that Sehgal, who was from a wealthy Hindu family in Jhelum, met Budhan Bai when he went to Sialkot for a wedding.
He returned with her, and built her the Lal Haveli. Their relationship was famous in the city, and neither converted to the other's religion. Sehgal also paid for the religious events arranged by Budhan Bai.
A typical Indian haveli, the building at one time was one of the best examples of Kashmiri woodwork – although that has faded with time.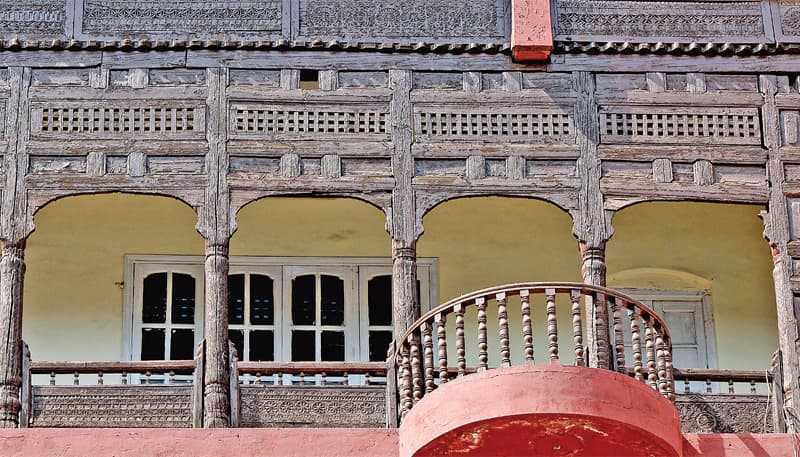 It consists of two portions, one served as the main apartment used by men and a women's chamber and courtyards in the back. Sehgal and Budhan Bai's chambers were located on the upper storey, attached to verandas that open into Bohar Bazaar.
Now, the front portion, approximately five marlas, is owned by Sheikh Rashid, and the rest has been leased to families by the Evacuee Trust Property Board (ETPB). The old sitting rooms have now been turned into political offices, and the sound of ringing telephones has replaced the music that played at parties at night.
The artwork on the walls has also been washed out, and although the floor of the main hall is still tiled, the rest has been cemented.
"Budhan Bai left dancing after shifting into Lal Haveli. Dhan Raj Sehgal built a mosque for her, and a temple for himself. The temple is adjacent to Lal Haveli in Bohar Bazaar," Sheikh Rashid told Dawn.
He said Budhan Bai had been the richest woman in the city; she had owned the mansion and the only car in Rawalpindi.
"I met her when she was sitting on her terrace in the evening. She gave me my first cigarette; she used to smoke Three Castle cigarettes," he recalled.
"Budhan Bai was a very honest woman. If she wanted, she would have earned money from selling the property. The court asked her to declare herself a Hindu and get ownership of the property after the departure of Dhan Raj Sehgal's family to India, but she did not. She remained in the few rooms at the front and left the portion declared the evacuee trust's property."
At a time, Lal Haveli was also believed to be haunted by disembodied spirits, and people said whoever bought the house died soon after.
"Yes, there were stories in the past, but I have never seen such djinns or spirits. Maybe they run away after they see me," Sheikh Rashid joked.
Published in Dawn, May 13th, 2018