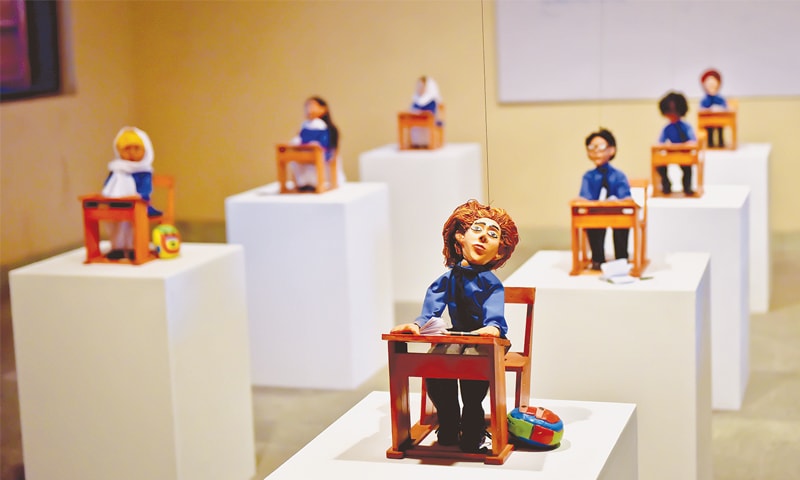 KARACHI: The first Karachi Biennale was formally inaugurated at the NJV School on Saturday evening. Artists and art lovers started to gather at the venue at the time mentioned on the invite (5pm) and kept pouring in even when the speeches were about to end. Thankfully, the speeches were short.
CEO of KB 17 Niilofur Farrukh said it was a dream that her team had dreamt for a long time. The biennale was Pakistan's largest contemporary art event in which the "stars are artists". A large population of the country comprised the youth, and through a collective occasion [KB] it could have a positive memory for them.
Chief curator of KB 17 Amin Gulgee, who was greeted with a loud cheer from a certain section of the audience the moment his name was announced, said Karachi was a maddening city. He raised the question why arrange such an event in a city that had seen so much bloodshed, then answered by recalling the year 1971 when the late Ali Imam opened the first gallery in Karachi where artists and art buffs gathered around Imam and talked about their work, making Karachi the hub of contemporary art. He hoped that his team's effort would create awareness and soon the city would have a museum [for the public]. He added the theme of KB 17 'witness' had struck a nerve, and it's time we created our own narrative. He rounded off his speech by welcoming the guests to the "city of dreams and nightmares".
First Karachi Biennale begins
Bushra Husain informed the audience about the Mahvash and Jahangir Siddiqui Foundation Juried Art Prize and about those who were in the jury. She invited Savita Apte to announce the award, which Ms Apte did. The award went to Ali Kazim.
Critic Marjorie Husain was the chief guest on the occasion. She said she had been looking forward to KB 17 for a long time. The event had taken her back to the days when she first arrived in Pakistan when there were places like the Arts Council and the PACC where artists could share their work, and they lived like a family. She hoped that everyone would come and see the works put up at the biennale.
Imran Sheikh, Masuma Halai and Atika Malik also spoke.
After the speeches, the invitees went around the school premises to see the artworks on display. There was a decent variety on view, ranging from performance art to video installations. It would be unfair not to mention Syed Safdar Ali's installation made with crutches. The artist has created a matrix, or a matrix-like big piece that no one could miss. The use of crutches as the medium is indicative of an existence with limited freedom.
The Karachi Biennale 2017 will conclude on Nov 5.
Published in Dawn, October 23rd, 2017