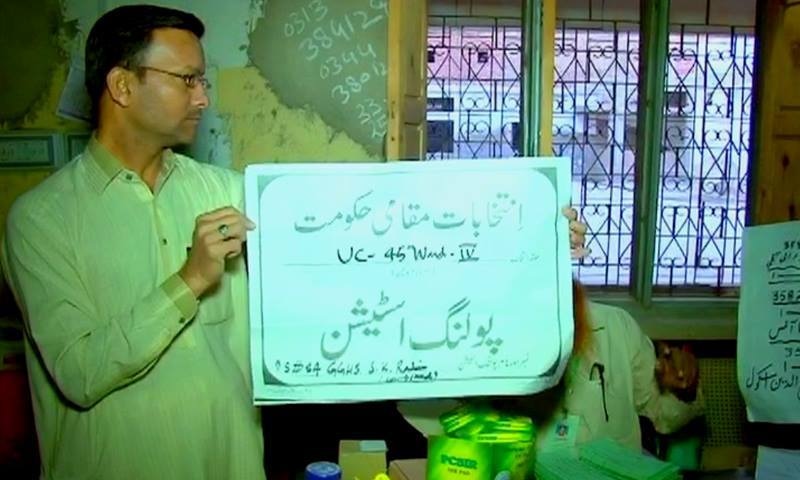 KARACHI/LAHORE: Polling has ended for the second phase of local government (LG) elections across Sindh and Punjab. At least 25 people were injured in scuffles between political rivals and their supporters during the course of the day.
One person was killed and 15 injured in Mandi Bahauddin in a clash between two opposing groups of PML-N after polling ended.
Earlier in the day, it was reported that women voters were barred from casting their votes at various polling stations in both provinces.
Candidates at various polling stations in both Punjab and Sindh called for a halt to voting after finding their campaign symbols were misprinted on ballot papers available at the polling stations.
Polling was also suspended at certain polling stations after ink ran out.
The Election Commission of Pakistan (ECP) has set up a control room in Islamabad to handle voters' complaints. Complaints may be lodged on the telephone numbers 051-9210816, 051-9210817 and 051-9210818.
Over 100 complaints have been lodged with the ECP ─ At least 56 from Punjab and 46 from Sindh. A number of complaints were made in reference to the misprinting of ballot papers, delay in the commencement of elections and ballot papers reaching polling stations late.
Most complaints in Sindh were received from Badin, Hyderabad, Mirpurkhas and Naushero Feroz, while those in Punjab were from Mianwali, Sargodha, Chiniot and Toba Tek Singh, DawnNews reported.
Voting in 11 districts in Punjab and 14 districts in Sindh commenced at 7:30am and is expected to conclude at 5:30pm.
MQM's mayor in Hyderabad
Muttahida Qaumi Movement (MQM) will bring its own mayor in Hyderabad Municipal Corporation (HMC) owing to their victory in LB polls today.
MQM coordination committee member Aminul Haq claimed that MQM has so far won 45 seats of HMC including 21 those who were elected unopposed. "We will hopefully win 70 seats", says Amin.
HMC is one of two municipal corporations other than Karachi which has five corporations.
---
Sindh: rivals scuffle, women voters barred
At least two people were injured in Badin and 15 in Tharparkar after scuffles broke out between rival political party workers at polling stations.
Director General Rangers Maj Gen Bilal Akbar reached Badin and visited polling stations to supervise the polling process.
Rangers personnel also temporarily detained councillor aspirant and PPP Badin General Secretary Aziz Memon after allegations of rigging surfaced against him.
The ECP ordered a stop to polling in UC-8 and UC-53 after complaints regarding misprinted ballot papers were received.
Polling has been halted at two Tharparkar wards, one Tando Allah Yar ward and one Naushero Feroz ward following complaints of misprinting of ballot papers.
A Union Council (UC) aspirant in Naushero Feroze has filed a complaint with the ECP control room alleging that ballot papers were being stamped since the previous night. The complaint has been forwarded to the District Returning Officer and the Election Commissioner and will be investigated, DawnNews reported.
Around 5.8 million voters in 14 Sindh districts — barring 81 UCs where polling has been postponed pending delimitation — will vote for over 18,000 candidates vying for more than 5,100 constituencies in various tiers of municipal units in the second phase of the LG elections.
As the ECP had earlier cancelled elections on 81 UCs in the three divisions, some 175 seats in Mirpurkhas; 168 seats in Hyderabad and 189 seats in Benazirabad will remain uncontested.
Each of the 14 districts has one district council apiece and each UC has four wards.
For the second phase, the polls had been originally planned in 15 districts, but the Election Commission of Pakistan (ECP) postponed the polling in Sanghar district for security reasons.
After the postponement of polling in Sanghar, the remaining two districts of Benazirabad division — Naushahro Feroz and Benazirabad — will offer 745 seats for which more than 2,000 candidates are contesting elections.
Sanghar is a stronghold of the PML-F where the ECP spotted tensions running high in the aftermath of the violence in Khairpur's Daraza UC in the first phase of the polls in which 11 people were killed — most of whom were later found to be PML-F supporters.
The ruling PPP emerged as the dominant force in the first phase of the polls held in three districts of Sukkur division and five districts of Larkana division on Oct 31. The party grabbed around 70 per cent of the total seats.
In Badin, Dr Zulfikar Mirza, PML-N and several groups are vying against the PPP.
How high the stakes are in Badin can be gauged from the fact that the PPP have had to rely on Chairman Bilawal Bhutto-Zardari to lead the campaign for the party's candidates.
Heavy contingents of the Rangers and police have been deputed in the district to prevent any untoward incident.
The Sindh government earlier decided to form a Rapid Deployment Force to handle trouble spots and also to launch an operation against history-sheeters, criminals, miscreants and absconders to ensure peaceful conduct during elections.
It was decided that a ban on keeping weapons would also be enforced 48 hours before the start of polling.
---
---
Punjab: firing and fake votes
At least seven people were injured in incidents of firing between rival groups in Sahiwal, Sheikhupura and Chichawatni, DawnNews reported
Four people were injured in Sheikhupura ─ two of whom rescue sources say are in critical condition ─ when two rival groups exchanged fire in UC-22, while three people were injured in incidents of firing as rivals fought each other in Sahiwal and Chichawatni.
A man in Gujranwala's UC-53 was injured after two rival political parties fought with each other, DawnNews reported.
Two people were arrested at polling station 37 in the district for trying to allegedly cast fake votes. Police had been alerted of the men who had earlier caused fights at other polling stations so they could cast fake votes, DawnNews reported.
A man in Toba Tek Singh's UC-28 ward 5 attempted to cast fake votes at a women's polling station and was taken into custody by the police.
Media representatives were barred from covering Hafizabad polling stations. Returning Officer Nawaz went to various polling stations and had reporters removed from the scene with the help of police officials. Army personnel are patrolling the streets of Hafizabad.
Television footage showed clashes breaking out between supporters of various political parties and independent candidates in Gujranwala and Sargodha.
In Gujranwala's ward 16 polling station, voting was earlier suspended following a scuffle over alleged fake votes, according to DawnNews.
Women voters at a Gujranwala polling station gathered in protest, refusing to leave the premises, after they were prevented from casting their votes by political party workers, DawnNews reported.
Voting at a Chiniot polling station was temporarily suspended after women were barred from voting. Television footage showed minor scuffles and arguments breaking out between groups of men.
Polling for local bodies in 11 districts of Punjab – Khanewal, Sahiwal, Toba Tek Singh, Chiniot, Sargodha, Mianwali, Sheikhupura, Gujranwala, Hafizabad, Mandi Bahauddin and Jhelum – will be held today.
Read more: LG polls: Devolving to Takht-i-Lahore
A regional police conference on Friday finalised security arrangements for the second phase of local body elections issuing instructions to the Punjab Police to ensure impartiality
A regional police conference last week was briefed that 104,204 policemen would remain on duty at 11,862 polling stations, which were divided into A+, A and B categories. The deployed force would include 5,410 policemen for post-polling duties, 14,693 for patrolling and 84,101 at polling stations.
The force includes 50,606 personnel of Punjab Police, 14,937 Pakistan Qaumi Razakar and 38,661 special police. Whereas, 44 companies of the army and six of Rangers would remain on standby in case of any untoward situation.
It was also decided that no parliamentarian or candidate would be allowed to enter a polling station with private gunmen, and that no groups or gatherings would be permitted within 300 metres of a polling station.
Victory rallies and processions will not be allowed and strict action will be taken against those found violating this code of conduct.
Read more: LG polls: PML-N leads in Punjab, PPP in Sindh:
During the first phase of LG polls, the ruling PML-N had secured a thumping majority by bagging 1,192 posts of UC chairman/vice-chairman, with independents (mostly Leaguers) gaining second position with 1,065 seats.
The Pakistan Tehreek-i-Insaf (PTI) could secure only 285 seats, while some upsets were also reported in various areas in 12 districts on Saturday.
Former ruling parties, PPP and PML-Q, clinched only 47 and 44 UCs, respectively. Jamaat-i-Islami and Dr Tahirul Qadri's Pakistan Awami Tehreek had bagged two seats each.
Explore: Situationer: 2nd phase may reinforce earlier trends