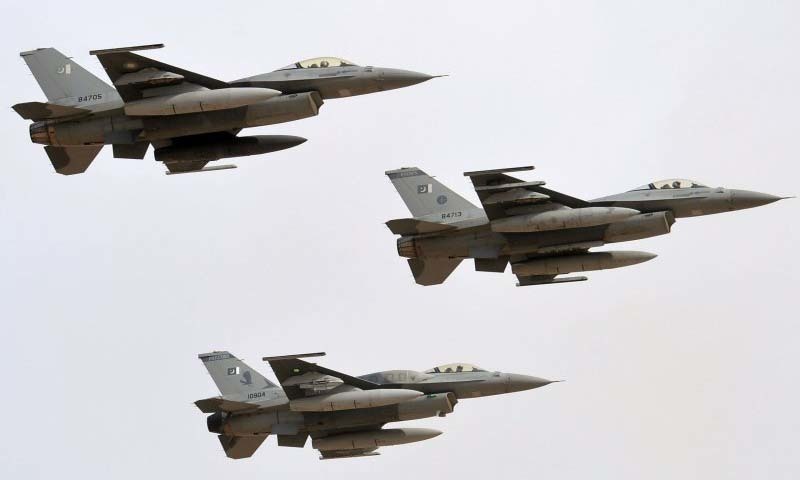 PESHAWAR: At least 30 suspected militants were killed in airstrikes conducted by Pakistan military jets on Wednesday in Tirah Valley of Khyber tribal region, according to a statement issued by the Inter-Services Public Relations (ISPR).
The statement added that two ammunition depots were also destroyed in the strikes.
Local sources say that a spokesman of the banned Lashkar-i-Islam (LI) militant organisation, Salahuddin Ayubi, was among those killed in today's air blitz.
At least eight suspected militants were killed in a separate military operation in Orakzai tribal region, according to security sources.
Security forces targeted the militants after an Improvised Explosive Device (IED) blast in Sabak area of Orakzai tribal. One security person also lost his life during the operation.
The details could not be independently verified as the access of media personnel is severely restricted in the region.
The latest development comes a day after Shakir Sipah, a driver of the LI chief Mangal Bagh, was killed in the drone attack on Tuesday along with eight others in Nazyan district of Afghanistan's Nangarhar province, near the Pak-Afghan border in Khyber Agency.
Khyber and Orakzai are two of Pakistan's seven semi-autonomous regions governed by tribal laws and lie near the porous Afghan border.
Militant hideouts have been frequently pounded by Pakistan's security forces in Tirah Valley area of Khyber region.
The strikes are part of Operation 'Khyber One' and 'Khyber Two', launched by security forces and aimed at targeting militants in Khyber Agency, particularly the Tirah Valley of Bara which borders Nazyan province of Afghanistan.
The operations in Khyber tribal region were launched amid operation Zarb-i-Azb being conducted by the Pakistan Army in North Waziristan tribal region.