An air ambulance is expected to arrive in Lahore from Doha to transport the PML-N supremo.

Everything you need to know about desi winter sweets.
Celebs including Sarmad Khoosat and Eman Suleman also attended the festival to discuss the future of cinema.
In videos posted on Instagram, Grande shared that her "throat and head are still in so much pain".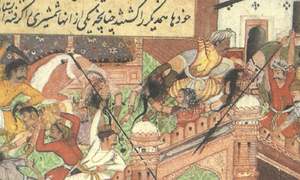 Complex life stories of men like him illuminate historical processes in ways that are missed by conventional accounts.
PTI is said to be popular among overseas Pakistanis but is that translating into a rise in remittances?
The Indian court has deprived Muslims of the disputed plot because they couldn't show exclusive possession before 1857.
The decision is expected to be announced today.
The protests have spread across the country since Friday.
It is unclear what kind of testimony the president has in mind.

'Smog' is not only limited to Lahore; in fact, all of Pakistan is at serious risk from high levels of air pollution
Party headquarters are as good as homes for their partisans. Is anyone looking after these emblems of political history?
Why did the two much-hyped exhibition matches organised by World Soccer Stars fail to gather any crowds in a football

Why is infidelity in marriage the theme du jour on television screens? Are unhappy, spiteful women with malicious intent
Director Roland Emmerich's expensive Midway suffers from the same problems his previous blockbusters did: action at the
It is hard to imagine the Dabangg franchise starring Salman Khan without a Rahat Fateh Ali Khan song — Tere mast mast do