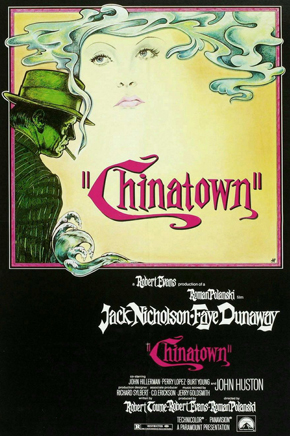 In all of cinema, perhaps the hardest genre in which to make a great movie would have to be the film noir. Many directors have made countless classic films in the action-adventure, comedy, drama and science fiction genres, but there are startlingly few in comparison when the film noir is brought into the equation. Not surprising, because when you think of it, the prerequisite for a great film noir is a water-tight script, a great director, a perfect cast and a very complex plot that makes logical sense towards the end of the film. To bring all these different pieces together to form a perfect machine is a very difficult task. Not many people can pull that rabbit out of a hat, many have tried, but only few have managed to leave a lasting footprint on this mesmerising genre.
One man who did manage it back in 1974 was director Roman Polanski, with his great masterpiece 'Chinatown'. Polanski may now be making headlines as an absconder fleeing from one country to another for having had sex with an underage girl, but in the 1970s he was the toast of town. Having already proved his tremendous talents as a film maker with 'Rosemary's Baby' (1968) and 'Macbeth' (1971) Polanski then shifted his attention, under the auspices of producer Robert Evans, to screenwriter Robert Towne's original screenplay 'Chinatown'.
Polanski still reeling from the shocking murder of his wife, actress Sharon Tate, by the insane Charles Manson gang, was reluctant to return to Hollywood to make the film. However, Robert Evans wanted the film to be made by a European's perspective, feeling that the cynical and myopic viewpoint of someone from across the Atlantic would give the film the dark edge that it needed. Eventually Polanski, after the encouragement of his friend Jack Nicholson, decided to get behind the camera and make the film.
The film is set in Los Angeles during the 1930s and like many film noir's the central character on which the movie revolves around is a private detective. Dashiell Hammett and Raymond Chandler made Sam Spade and Philip Marlowe as their respective anti-heroes. A tough-minded detective who has graduated from the school of hard knocks is the only one who can deal with cerebral cases. J.J Gittes (Jack Nicholson) is formed in the same mould as the above mentioned characters. He shares their cynicism and distrust of the facts presented to him in every case. But for Gittes the particular case of Evelyn Mulwray, in which he gets himself embroiled in, is more of a brain crusher than even he could have imagined.
Gittes is initially hired by a woman who poses as Evelyn Mulwray, to investigate the infidelity of her husband, an influential engineer in L.A's water and power department named Hollis Mulwray. When the scandal breaks out in the local newspapers, and the real Evelyn Mulwray (Faye Dunaway) threatens to sue him, Gittes discovers that he's been used as a pawn in a larger game. Not the type of man to be "caught with his pants down" Gittes decides to investigate. Things really turn pear shaped for him when Hollis Mulwray is found dead having drowned in an apparent accident, added to this is the fact that there is a drought in the state. For a water and power official to end up dead in the middle of a drought is bizarre to say the least and Gittes knows it. Eventually what unravels before him is a strange labyrinth of corruption, dark family secrets and a tale of greed and deception. Not to give the plot away completely, let's just say that when watching the film, don't believe everything you hear from the characters. Who is playing whom and what is really going on; well that's the fascinating key to the film.
The movie in essence is a tour de force, where the viewer is taken on a ride with Gittes from start to finish. He's in virtually every scene almost like a curator at a museum, telling the audience 'welcome to my world, this is what I have to deal with'. Gittes cynical views along with his shady background, is worn by him like his finely tailored suits. Though he makes mistakes in his deductions to solve the case and is sometimes in over his head, Gittes is no fool. Like all antiheroes he's not an entirely admirable character. His methods may raise eyebrows but he does get the job done, one way or another. His one redeeming quality is that he does have a moral compass, even though the needle is a bit bent. Roman Polanski used the Gittes character to perfection in 'Chinatown' and made him a memorable character in this landmark motion picture.
'Chinatown' is regarded by many film critics and historians as the greatest film noir ever made and it's not surprising to see why. Robert Towne's script is so sharp it could cut you like a knife, added to this is composer Jerry Goldsmith's memorable and hauntingly beautiful music which creates a dream like environment in the film.
Love Theme from the Chinatown Soundtrack
[audio https://i.dawn.com/2013/01/01-love-theme-from-chinatown.mp3]
The performances in the movie are top notch. Jack Nicholson and Faye Dunaway are the heart and soul of the movie and their performances carry the film's narrative like a slow moving train carrying passengers who are the audience. Nicholson cemented his status as a Hollywood leading man in the early 1970s with this movie and 'One Flew Over the Cuckoos Nest', which won him his first Academy Award.
Faye Dunaway is perfect as the femme fatale Evelyn Mulwray. She brings to the role just the right amount of mystery and deception required for the audience to lap up. Mulwray may be one messed up broad, but ultimately is a figure that can be sympathised with. Finally, I have to mention the legendary John Huston, who plays Noah Cross, another important character in the film. Huston brought his towering personality in perfect compliance with the requirements of the character. Polanski made the right decision to cast Huston in the film because his commanding screen presence adds just the right touch to Cross's devious nature. John Huston was the man who made the original great film noir in 'The Maltese Falcon' (1941).  As a matter of fact it was Huston who made the film noir a full fledged genre in cinema. Casting him in the movie was an enormous tribute paid to the great director by Polanski.
As for Roman Polanski himself, though still living in exile from the United States, he is still managing to churn out great films. His personal shortcomings aside, actors and other filmmakers still want to work with him and it's not difficult to see why. His personal life may have been full of tragedy and problems, but that hasn't completed damaged his status as one of the great directors of all time. See 'Chinatown' if you want to see the perfect film noir and as to why this genre produces fewer great movies than any other.
View Dawn.com's weekly classics archive here.
---
Raza Ali Sayeed is a journalist at Dawn.com and can be reached at rsayeed1984@gmail.com