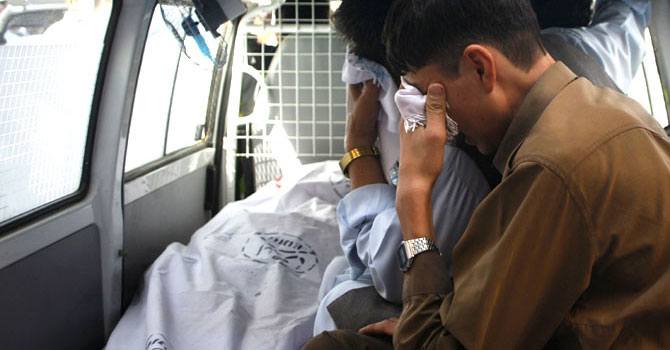 On a cold December day in 2011, community leaders gathered at the home of the head of the Hazara community in Quetta, to discuss the drowning of dozens of Pakistanis off the coast of Indonesia as their ferry capsized. These illegal immigrants wanted to seek asylum in Australia and nearly all belonged to the Hazara community.
Their grief-stricken relatives started to stream in and out as it appeared that most of the dead were educated and belonged to well-off families.
With most of them being educated and from well-off families, why would they choose to be an illegal immigrant on a hazardous route? Perhaps they were misled — or ended up with some unsavoury travel agent who turned out to be a human smuggler.
"All of them knew they could be arrested — and there was a good chance that they could be killed as well," said Sardar Saadat Ali Hazara. "They and their families knew what they were getting into. For them it was a chance to get away and live a better life than await a bullet or a bomb that would come eventually their way," Sardar Aga explained.
The dead were from 18-40 years age group — a high-risk group in Quetta. As the militants become more brazen and indiscriminate, women and children have also been targeted. Fear hangs palpably in and around Quetta — especially in the Shia neighbourhoods of Marriabad and Hazar Ganji. It is not just the killings but also the fact that the militants are now using videos and SMS messages to terrorise people.
As reported by this scribe in a detailed article published earlier in Dawn, since Malik Ishaq's release it has become easier for the Lashkar-i-Jhangvi (LJ) leaders to move around, and they have started setting up new cells particularly in Balochistan and Gilgit-Baltistan.
The cells comprising locals have been strengthened, especially in Balochistan — where they operate independently. The traditionally secular Baloch and particularly the Brahui are increasingly turning to the radical Islamist militancy espoused by SSP / LJ.
Security officials and Shia leaders say this turn of events is complemented by the growth of sectarian madressahs. Perhaps the largest SSP seminary outside southern Punjab is in Mastung, the heart of the territory controlled by the Raisani tribe.
Another major reason, according to Shia leaders, is the alleged support by intelligence agencies to groups of pro-government Baloch tribesmen. Most of them have dual identities — the second being outright sectarian and extremist. It is no surprise that the largest of the groups is considered to be the de facto LJ in Balochistan.
All that is perhaps irrelevant for the intelligence agencies whose main aim is the tried tactic of using religion to suppress nationalism. Led by a close relative of a senior politician from the province, some of LJ Balochistan's more high-profile attacks include the killing of Baloch nationalist leader Habib Jalib Baloch and the Shia pilgrims in Mastung.
A senior member of the group accepts involvement in attacks to protect the Baloch community — but denies carrying out attacks on Shias.
"We are only carrying out defensive action against people who are supported by foreign intelligence services. The Baloch people are with Pakistan — it's just that they are scared of militants."
He adds that while their group isn't anti-Shia, the community has elements who act as agents of Iran which must stop. The Baloch insurgents have always reacted strongly to attacks on the nationalist leaders. Some remain ambivalent on the issue of sectarianism, while others have even provided quiet support because of the suppression of the Sunni Baloch by the Iranian government. However, the leaders of the insurgent movement say that this is a conspiracy to divide and weaken the resolve of the Baloch.
"The agencies cannot suppress us in the field so now they are trying to use pro-government elements to malign the movement," a rebel leader says. Increasingly, it's LJ Balochistan that has the deadliest militants in the country, like Usman 'Saifullah' Kurd and Ramzan Mengal, each responsible for dozens of killings. Both men added to claims of official complicity when they literally walked out of a high-security Anti-Terrorism Force jail in Quetta's heavily guarded cantonment area.
Security officials say they continue to enjoy patronage by some senior Baloch tribal leaders, especially of the Raisani and Mengal tribes. Hazara leaders in Quetta openly accuse the Chief Minister Aslam Raisani and other prominent members of his government of allegedly protecting sectarian killers.
Others claim that tribal leaders have no choice; they are pressurised by intelligence agencies and their own increasingly militant Sunni tribesmen. For the Hazara community there appears no end to this reign of terror.