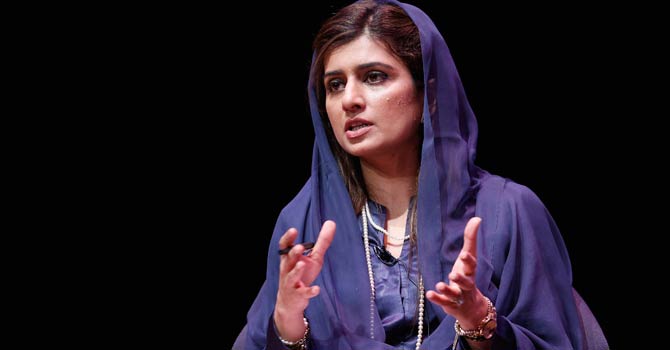 Pakistan's Foreign Minister Hina Rabbani Khar speaks at the Asia Society in New York September 27, 2012. Khar is in New York for the 67th UN General Assembly. — Photo by Reuters
NEW YORK: Foreign Minister Hina Rabbani Khar said on Thursday that Pakistan did not disagree with the use of drones to kill militants but could not approve its illegal method.
"What the drones are trying to achieve, we may not disagree. We do not disagree. If they're going for terrorists — we do not disagree," she said at a US think-tank in New York.
"But we have to find ways which are lawful, which are legal."
The use of unilateral strikes on Pakistani territory, she said, was illegal. "It is illegal and it is unlawful."
The Wall Street Journal reported on Thursday that US policy-makers believed they had Pakistan's "tacit consent" for the drone strikes which killed some key terrorist leaders.
The foreign minister, when asked to comment on the report, said she would not like to talk about it but her statement apparently confirmed WSJ's claim.
On Tuesday, two American universities, Stanford and NYU, published a joint report which said the drones stirred anti-Americanism in Pakistan as they killed a lot of innocent people as well.
The foreign minister also stressed this point in her speech, saying: "Drones are a reason why the US is unpopular in Pakistan."
The foreign minister, who was speaking at the Asia Society, did not mention the drones in her speech but while responding to a question she explained Pakistan's position on the issue.
"Pakistan needs to build popular support for its own efforts to crush armed militant groups, but this is impossible as long as the war is viewed as US interference," she said.
"As the drones fly over the territory of Pakistan, it becomes an American war and the whole logic of this being our fight, in our own interest, is immediately put aside and again it is a war imposed on us," the foreign minister explained.
She warned that ignoring Pakistan's position on this issue could cause the United States to lose the war against terrorism.
America's current drone policy, she said, was like "choosing to win the battle at the cost of the war. These are battles. You get one terrorist, two terrorists, fine. But are you winning the war?"
Instead of rejecting the US policy, the foreign minister asked the Americans to work with Pakistan to find a way out.
"We must find a way how to handle this," she said.
Talking about the negative effects of the drone attack, the foreign minister noted that suicide attacks which were virtually unknown in Pakistan multiplied rapidly when Americans started using drones in Fata.
In her speech to the think-tank, Ms Khar said Pakistan regarded Kabul as the most important capital in the world and recognised India as equally important.
That "the most important capital in the world is Kabul … is now an article of faith in Pakistan", she said, "the national consensus across political parties in Pakistan today is that Afghanistan deserves the same dignity and respect that Pakistan expects from other countries for itself."
Ms Khar said the best way for Pakistan to express its respect for Afghanistan was to be a partner to whichever government the Afghan people chose.
"We have been investing in a programme of trust and confidence building that has seen a dramatic improvement in our relationship with not only the Afghan government, but also the political opposition," she said.
"We are walking the talk. We have no favourites in Afghanistan. We are interested in brotherhood with the entire Afghan nation."
The change in Pakistan's Afghan policy, she said, was not only paying dividends today, but would pay dividends far into the future as well.
The foreign minister said India was equally important for Pakistan, but instead of waiting for resolving complex issues like Kashmir before normalising ties, the government believed in engaging India first.
By encouraging trade with India, she said, the government was trying to create a stake in peace so that both countries have economic interests in peace as well.
The government was now using "the vastly untapped potential of trade and people-to-people contacts" for improving ties with India, she said.
"Trade and commerce will enhance economic opportunities for our people, and help expand and deepen the stakes, and create a set of interdependencies that will raise the cost of conflict," she said.