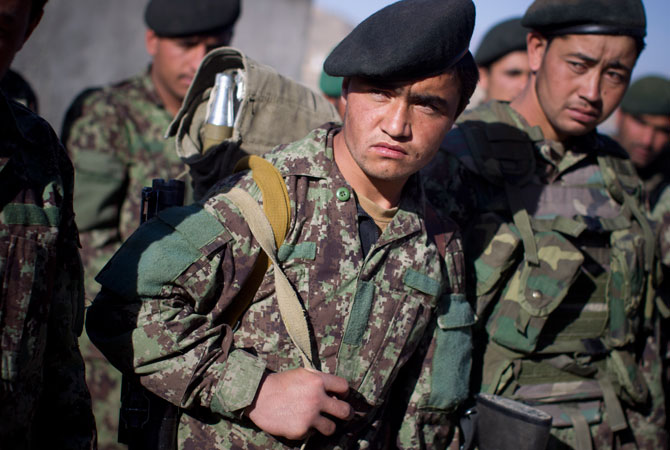 Soldiers from the Afghan army. — Photo by AP/File
ASAD ABAD, Afghanistan: Five Afghan army soldiers were killed in an insurgent roadside bombing and suicide attack in an eastern Afghanistan militant hotbed, officials said Wednesday.
The soldiers were attacked late Tuesday in Kunar province by a suicide bomber on foot after a smaller explosion caused by a roadside bombing, a tactic that Afghan insurgents use often, the officials said.
"First there was an improvised roadside bombing that hit an army convoy," Mohammad Amin Tokhi, the Kunar provincial deputy governor, told AFP.
"Some of the soldiers got out of their vehicles to check it out. A suicide bomber ran at them and detonated. Five of our soldiers were martyred and another was wounded."
The incident took place in Manogai district, a hotspot of the Taliban insurgency.
Dozens of the militants were killed in a Nato airstrike in the region earlier this month, the deputy governor said.
Mohammad Daud Barakzai, the Kunar deputy police chief, confirmed the Afghan army casualties and blamed the Taliban for the attack.
Afghanistan is plagued by an insurgency waged by the remnants of the Taliban, a group that ruled the war-shattered nation between 1996 and 2001 before being ousted in a US-led invasion.
Nato has some 130,000 troops in the country fighting the insurgency but they are due to withdraw in 2014 and Afghan forces are taking increasing casualties as they assume more responsibility for security.