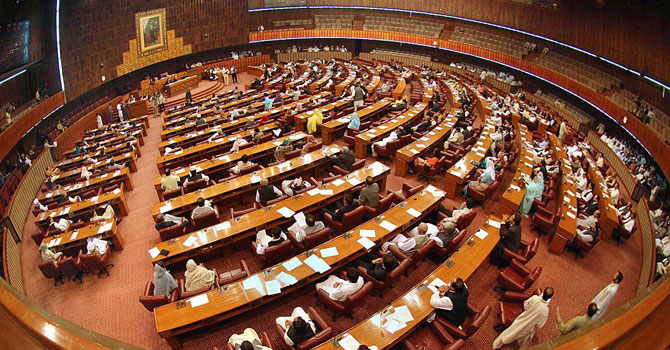 ISLAMABAD: Prime Minister Yousuf Raza Gilani on Friday refused to step down after his contempt of court conviction, saying only the country's parliament could remove him from office.
"There is no law to remove an elected prime minister, parliament is the supreme authority and only this parliament has the authority to remove me," he said in a defiant appearance in the National Assembly a day after the Supreme Court verdict.
He had faced opposition calls to quit after the Supreme Court convicted him for refusing to write to authorities in Switzerland asking them to reopen a multimillion dollar graft probe into President Asif Ali Zardari.
MNAs from the Pakistan Muslim League - Nawaz (PML-N) staged a walk out from the assembly.
The prime minister rhetorically asked whether he was not an elected representative of the people.
I have protected the Constitution of this country, he said, adding that he was convicted "for protecting the Constitution".
He insisted he had done nothing wrong.
"I have not committed a crime, I have done nothing wrong but I have protected the constitution of this country," he said.
He challenged the PML-N to "bring a vote of no confidence" against him.
"I am an elected prime minister, representing 180 million people. How can any body order an elected prime minister to go home?" he said.
"Only the speaker of the house, who is the custodian of this house, has the authority to decide. I am ready to quit if this parliament disqualifies me."
"I don't have ego issues, I am the longest serving prime minister of this country," he said.
Referring to the Sharif brothers, the prime minister said: One brother does not accept the president, the other does not accept the prime minister.
"I was congratulated on the conviction, more times than I was on becoming the prime minister...I was congratulated for protecting the Constitution of this country," the premier said.
He said: "Nawaz Sharif should decide who he is with...on some occasions he talks about the DG ISI and on others he talks about the parliament."
Gilani is the longest-serving prime minister in the history of Pakistan.
The corruption allegations against Zardari date back to the 1990s, when he and his late wife, former premier Benazir Bhutto, were suspected of using Swiss bank accounts to launder about $12 million allegedly paid in bribes by companies seeking customs inspection contracts.
The Swiss shelved the cases in 2008 when Zardari became president and a prosecutor in Switzerland has said it will be impossible to re-open them as long as he remains head of state and so is immune from prosecution.
Gilani insists the president has full immunity, but in December 2009 the Supreme Court overturned a political amnesty that had frozen investigations into the president and other politicians.