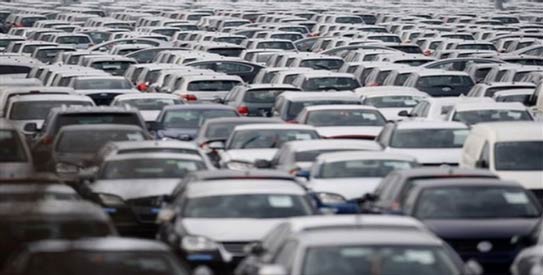 KARACHI: Car sales in the first half of current fiscal year went up by 20.5 per cent amid negative developments including the government's decision to impose a ban on CNG kits and cylinders, suspension in production of Honda Civic and City and increase in prices of all vehicles.
According to figures shared by the Pakistan Automotive Manufacturers (PAMA), consumers purchased 12,240 more cars in July-December 2011 to 71,886 units as compared to 59,646 units in the same period of 2010.
Increase in production of Suzuki Mehran and Suzuki Bolan for onward supply to Punjab government's Yellow Cab Scheme was the main reason that averted the negative impact of ban on CNG kits and cylinders and production halt of Honda cars on the overall production figures.
However, local assemblers are still perturbed over the government's decision of imposing ban on CNG kits and cylinders. In this regard, Pak Suzuki Motor Company Limited (PSMCL), which holds over 50 per cent market share, may suffer more as it used to roll out 80 per cent CNG fitted vehicles out of its total production. Assemblers added that six months sales had risen due to previous orders and the impact of government's decision would be visible in coming months. It must be noted that Toyota Corolla, which also launched CNG fitted vehicles few months ago, might also be affected by this decision.
Sarfaraz Abbasi, an analyst at Summit Capital, linked the growth in auto sales to removal of 2.5 per cent special excise duty and cut in the rate of General Sales Tax (GST) from 17 to 16 per cent.
Car sales in December 2011 plunged due to 92 per cent decline in sales of Honda Cars and flat sales of Indus Motor Company.
Honda Atlas Cars has suspended Civic and City production for December 2011 to January 2012 owing to non supply of parts from Thailand. Civic and City sales in December 2011 were recorded only 49 and 22 units as compared to 369 and 528 units in November 2011 respectively.
Nauman Khan of Top Line Securities said December 2011 sales declined as buyers preferred to defer orders due to year end phenomenon.
"Despite launch of new variants by the company in 1600cc segment and CNG vehicles (Eco), Toyota Corolla sales showed a decline on account of reduced farm income amid falling cotton prices," he added.
Mehran leads: According to PAMA figures, production and sales of Mehran stood at 15,343 and 17,014 units as compared to 11,995 and 11,591 units in July-December 2010. Production and sales of Bolan rose to 8,052 and 8,848 units as compared to 6,978 and 6,483 units.
While other manufacturers suffered production and sales in December 2011 as compared to November 2011, production and sales of Mehran in December 2011 surged to 2,697 and 2,880 units as compared to 2,262 and 2,720 units in November 2011.
The production and sale of Bolan in December 2011 recorded at 1,603 and 1,968 units as compared to 1,380 and 1,369 units in November 2011.
Daihatsu Cuore continued to suffer as its production and sales plunged to 2,060 and 1,884 units in July-December 2011 as compared to 3,051 and 2,959 units in the corresponding period of 2010 due to reports of closure of its production in Pakistan from March this year.
Sale of Suzuki Cultus and Alto rose to 7,034 units in the last six months as compared to 5,599 while sale of Alto increased to 6,779 as compared to 5,762 units.
In 1,300cc and above, a total of 2,664 units of Honda Civic and 4,197 units of Honda City were sold in the last six months as compared to 2,918 and 3,957 units in the same period of 2010.
Suzuki Liana sales slightly stood at 199 units as compared to 188 units while Swift sales improved to 3,247 from 1,472 units.
Toyota Corolla sales grew to 20,020 units from 18,717 units.