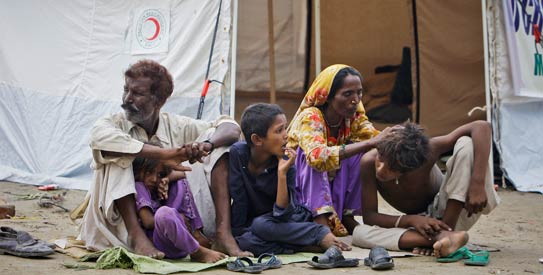 WASHINGTON: The World Bank on Thursday said it would provide Pakistan with $5.5 billion in development aid over the next two years.
"The Bank has responded flexibly in the face of the tremendous challenges Pakistan has gone through over the past year or so," said its Pakistan country director Rachid Benmessaoud.
"We will continue our strong support to Pakistan, while keeping a keen eye on implementation to ensure that these efforts translate into real results on the ground," he said.
The bank's progress report on its Pakistan program said its efforts had been disrupted over the past two years by the devastating floods of 2010-2011, ongoing security problems as well as "slow economic reform".
"Shifting the focus and resources in response to the floods led to a delay in infrastructure investments," it said.
It said Pakistan's economic recovery from the floods and other problems remains slow, with growth of 3.9 per cent expected next year.
"A range of governance, corruption and business environment indicators suggest that these areas remain a challenge," it added.
The funds include $4 billion in development assistance and $1.5 billion from the bank's International Finance Corporation, which helps private sector firms.
"We are committed to helping Pakistan realize its potential especially in key sectors such as infrastructure, renewable energy and agribusiness," said IFC Middle East director Mouayed Mahlouf.
Now you can follow Dawn Business on Twitter, LinkedIn, Instagram and Facebook for insights on business, finance and tech from Pakistan and across the world.