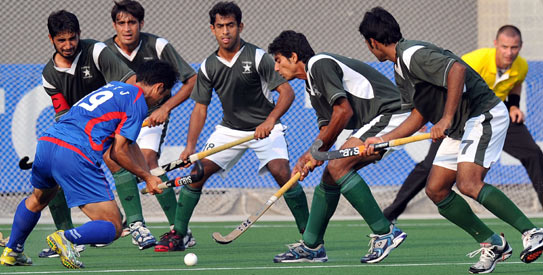 GUANGZHOU: Pakistan seek redemption as Malaysia chase history in Thursday's Asian Games men's hockey final that will guarantee the winner a place in the London Olympics.
Pakistan last entered the Asiad final 20 years ago in Beijing when they won their seventh gold medal in the event, but a major title has eluded the former champions since the World Cup in 1994.
For Malaysia, hockey's perennial under-achievers, it will be their maiden appearance in the title clash despite winning the bronze medal six times.
"It's great to be in the final, but having come so far, we need to go all the way," said Malaysian coach Stephen van Huizen.
"A direct entry to the Olympics will be a bonus."
Pakistan are desperate to make amends after a disappointing year in which they finished a humiliating 12th out of 12 at the World Cup in March and came in sixth at the Commonwealth Games in October.
Top penalty corner exponent Sohail Abbas, 35, who may not be around when the Olympics are held in two years time, said Thursday's game will be one of the most crucial for his team in recent times.
"We need to win a big one to restore faith in our fans back home," said Abbas. "This is the time to do it, we can't afford to slip up."
Pakistan Hockey Federation chief Qasim Zia was confident his team will deliver.
"We need a collective effort in the final," the former international said.
"I firmly believe our team, which is a good blend of youth and experience, can do it."
Both Pakistan and Malaysia came through thrilling semi-finals on Tuesday to set up the title clash.
Malaysia stunned favourites India as Amin Rahim levelled the scores 3-3 just three minutes before the end and then slipped in a golden goal in the first session of extra-time.
It was Malaysia's first Asian Games win over India, having lost all their 10 previous encounters.
Pakistan knocked out defending champions South Korea as goalkeeper Salman Akbar saved four of the seven shots in a penalty shoot-out after both teams failed to break the 1-1 deadlock in extra-time.
Malaysian goalkeeper Kumar Subramaniam, who too executed brilliant saves against India, has an added incentive to continue the good work in the final.
Subramaniam returned home from the Commonwealth Games in New Delhi due to his father's death and was not keen to make the trip to Guangzhou, but was persuaded to change his mind by team-mates and the coach.
"We told him that if we win the gold medal, he could dedicate it to his father," said van Huizen. "Now he is highly motivated."
South Korea will clash with India for the bronze medal on Thursday.