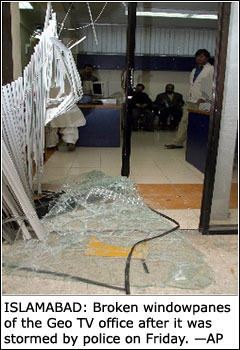 ISLAMABAD, March 16: About two dozen personnel of the Punjab Police on Friday attacked and ransacked the offices of a private TV channel some 30 minutes before the conclusion of the Supreme Judicial Council proceedings against Justice Iftikhar Mohammad Chaudhry, apparently in an effort to stop the channel from airing live pictures of police action against protesting lawyers and activists of various political parties.
The police action against Geo TV came minutes after the channel telecast footage of running battle between the police and protesters, captured from its cameras on the rooftop of the office building situated about 500 metres from the Supreme Court building where the protesters were trying to reach to welcome the 'non-functional' chief justice.
A strong reaction from journalists, politicians, lawyers and traders against the attack on the TV channel prompted President Pervez Musharraf to come live on TV and 'apologise' for the incident.
President Musharraf said the incident was 'regrettable' and promised swift action against people responsible for it.
The TV channel aired scenes in which policemen, armed with sticks, were seen breaking the windowpanes of the offices.
Within minutes of the attack, Federal Minister for Information and Broadcasting Mohammad Ali Durrani also reached there and criticised the police action.
Eye-witnesses said some of the policemen were present inside the office when the minister arrived there.
According to Hamid Mir, Chief of Geo's Islamabad Bureau, three to four policemen, including an inspector, came to the office and asked him to remove the cameras installed on the rooftop. Mr Mir asked the police personnel to show any written order in this regard. He said that instead of showing him any written directives, they ordered his men to carry out the operation and a group of policemen entered the building, pushing him aside.
Bureau chief of The News Ansar Abbasi, who was also in the office at that time, termed it a 'pre-planned attack' and claimed that senior officials of the district administration and police remained outside till the completion of the operation.
Soon after hearing the news of the attack, a number of journalists who were outside the Supreme Court staged a protest march and reached the Geo office.