FARAR FAME
Sarwat Gilani is picking her acting assignments well. After the resounding success of the film Joyland, she is leading the pack of actresses in a series titled Farar, a partnership project of Applause Entertainment and Zindagi South Asian. The six-part series was set to premier at the Chicago South Asian Film Festival last week. Helmed by Mehreen Jabbar and penned by Rida Bilal, the story is an adaptation of Mehreen J's telefilm of the same name and focuses on three women 'who yearn for an escape that could alter the course of their lives'. Well, can't wait to see their escapade, sorry, escape story.
JATT RULE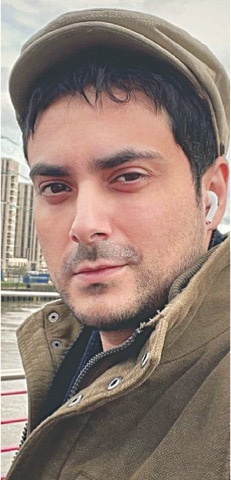 Here's one more feather in the cap of The Legend of Maula Jatt. On September 13, the film's director Bilal Lashari received the best filmmaker award at the Bollywood Festival in Norway. The event has been happening since 2003 and aims to celebrate Indian cinema, but Maula Jatt has done so tremendously well both at the box office and in the eyes of critics that the organisers of the event invited Bilal L as a guest speaker for 2023. Isn't that great… and, again, legendary!
BRUTAL ROMANCE
Elon Musk is often in the news for his entrepreneurial achievements. This time round, he has made the headlines for his affair with actor Amber Heard, echoes of which even came up during social media chats when the Johnny Depp-Heard trial was on. In a soon-to-be-released biography, Elon M has said that his year-long affair with Amber H was "brutal". In the book, the businessman's brother doesn't have good words to say about Amber H, to which the Tesla CEO's response is: "Because I'm just a fool for love. I'm often a fool, but especially for love." Hmmm… Elon Mush?
OBSEQUIOUS KHAN?
Just when people had begun to think that Shah Rukh Khan was the only star or famous personality in India who hadn't bowed down to the xenophobic and extremist rule of Narendra Modi by standing his ground and giving mega hits such as Pathaan and Jawan with mass support, he turned turtle. On X, formerly called Twitter, SRK felt compelled to praise and congratulate the Indian Prime Minister for the "success of India's G-20 Presidency." Did you really have to SRK? Especially when the G-20 summit wasn't even any great shakes?
LANGUAGE, PLEASE
Describing Priyanka Chopra's character and expressing her desire to play a similar role as hers in the film Barfi, Pakistani actress Sehar Khan used words which she should not have used, such as 'crazy'. Netizens were quick to spot them, and some of them gave her a lesson or two on conditions such as autism. Subsequently, Sehar K apologised. We think it's good, and all's well that ends well. At the same time, Twitterati need to understand that language is not everyone's forte. We're sure many educated individuals wouldn't know what antediluvian means either.
THE RING
The royal couple — oh, we forget, they're not a royal pair anymore — Meghan Markle and Prince Harry went to see the 2023 Invictus Games and everybody noticed one thing: Meghan M didn't have her engagement ring on. This fueled speculation about… you know what. Investigations by some showbiz reporters revealed that the "ring is being serviced because a setting came loose." Trust people who have nothing better to do to start jumping the gun.
Published in Dawn, ICON, September 24th, 2023