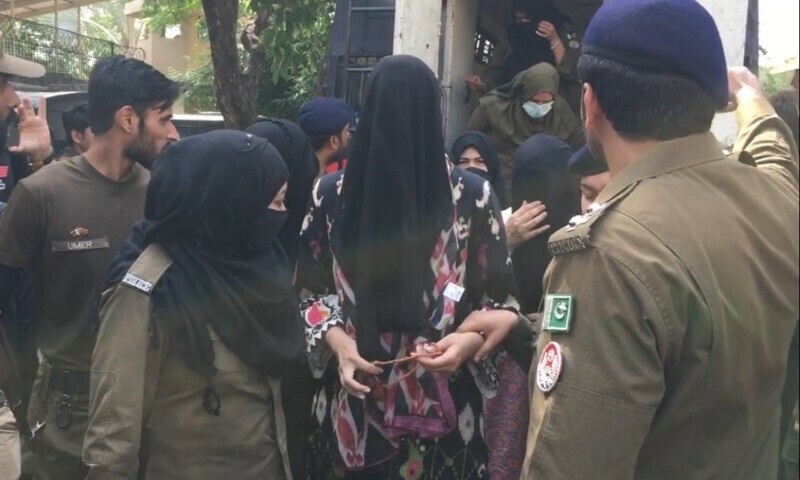 LAHORE: An anti-terrorism court on Wednesday sent fashion designer Khadija Shah, a granddaughter of former army chief Asif Nawaz Janjua, and another woman worker of the Pakistan Tehreek-i-Insaf (PTI) for identification parade in a case of attack on Jinnah House during the May 9 protests.
Sarwar Road police produced Ms Shah and Huma Saeed with their faces covered before the court after keeping them in a prison van for almost two hours.
The investigating officer told the court that judicial custody of the two women was required for identification parade.
Judge Abher Gul Khan allowed the request and sent both women to jail on seven-day judicial remand and directed the police to produce them again on May 30 after the process of their identification parade.
Ms Shah had surrendered to the police on Tuesday night as she had gone into hiding to avoid arrest in the May 9 cases.
Her father, a known economist and ex-advisor to former chief minister, Salman Shah, brother Jarrar Ali Shah and husband Jahanzeb Amin were also allegedly picked by police.
Her father and brother had returned home after two days following hearing on a habeas corpus petition before the Lahore High Court. However, her husband was reportedly released by the law enforcement agencies after she surrendered last night.
During her remand proceedings, Ms Shah was allowed by the judge to meet her husband in the courtroom.
While the police were in search of Ms Shah, an audio message went viral on social media wherein the fashion designer purportedly said she was going to court arrest. She also disclosed that she was a dual national and had contacted the embassy of the country. However, contrary to her claim in the audio, she kept hiding from the police.
On May 9, Khadija Shah had posted videos of her participation in the PTI protest outside the Jinnah House, also the residence of the Lahore core commander, on her social media accounts.
Published in Dawn, May 25th, 2023