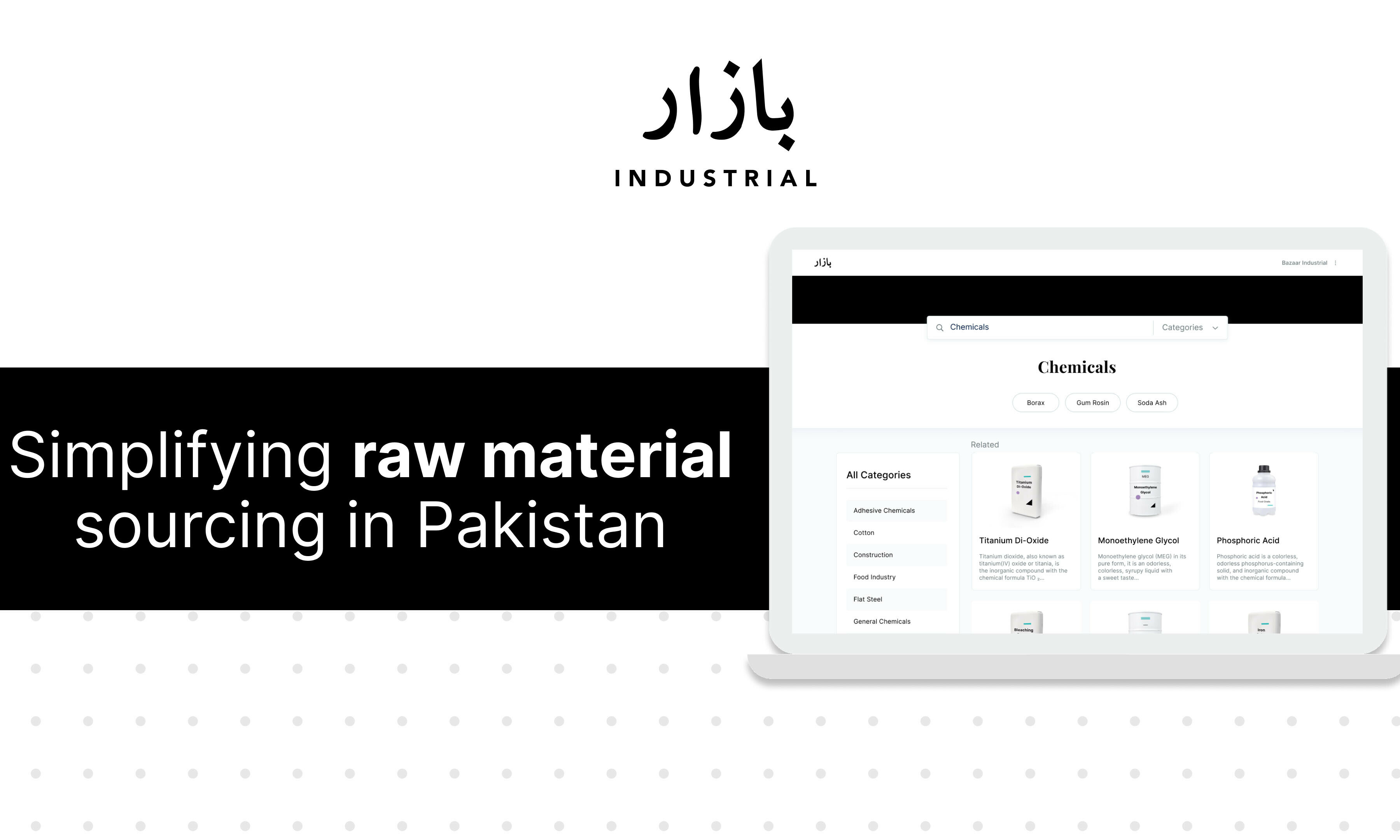 Bazaar, a B2B marketplace from Pakistan, has launched a simplified raw material sourcing platform, Bazaar Industrial, for manufacturers across the country.
In a press release issued on Thursday, the company said it aims to serve as an aggregator and solve problems faced by suppliers and manufacturers in sourcing raw materials in more than 15 categories, including chemicals, construction, steel, textile, polymers and paint.
"Through a tech-enabled platform, Bazaar Industrial is enabling suppliers with market intelligence and data insights access to customers nationwide via a robust supply chain infrastructure and a dedicated sales force with deep industry experience."
Listing the services it provides, Bazaar said its platform offers the "best quotes on flexible payment terms, a comprehensive portfolio of raw materials and real-time insights with marketplace data points".
It noted that the size of Pakistan's raw material market was over $20 billion and by solving problems faced by manufacturers and suppliers through digitisation, Bazaar Industrial aimed to improve the trade economics of small and medium enterprises.
The platform has received interest from several companies, including Loads, Diamond Paints, Steelex, Novatex and Sapphire, the press release stated.
Bazaar Industrial is headed by the company's Managing Director Ali Ilyas, who said, "It's been incredible to join this rocketship with its stellar employer brand, world-class technology stack and significant capital base which will be a game changer in local raw material sourcing for customers and suppliers."
Meanwhile, Bazaar's Co-Founder Hamza Jawaid commented, "We are incredibly excited to take the impact and learnings from our retail business to solve similar challenges for the industrial segment that is a major driver of Pakistan's economy.
"In Ali and the entire Bazaar Industrial team, we have deep expertise and stellar drive to establish a strong and growing business in this space."
Founded in June 2020 by Jawaid and Saad Jangda, Bazaar provides procurement, fulfillment, operating software, digital lending and supply chain products to merchants and suppliers in Pakistan.
It has since raised over $100 million in venture financing and expanded its presence to over 50 cities.
Follow Dawn Business on Twitter, LinkedIn, Instagram and Facebook for insights on business, finance and tech from Pakistan and across the world.