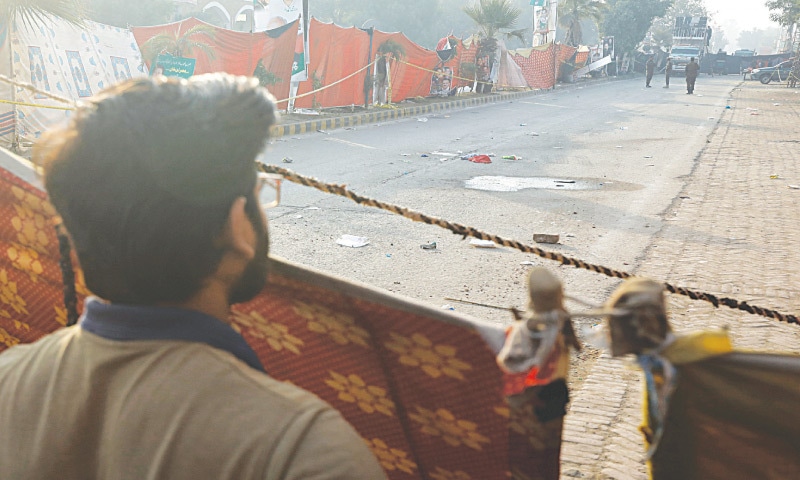 A heavy contingent of police is deployed at the crime scene on old GT Road, while a large crew of national and international news channels stands alert on the opposite side of the road with their digital transmission vans and other gadgets pointed at it.
Traffic continues to flow in opposite directions on a single track of this dual carriageway as a small portion of the other track, where PTI Chairman Imran Khan's container is parked, is completely cordoned off. A team of forensic experts is busy examining the container.
This packed area is the scene of Thursday's assassination attempt on former prime minister Imran Khan that caused the death of a PTI worker and injuries to at least 14 others, including party lawmakers. A suspected assailant was overpowered by a local party worker and police soon after he fired a volley of bullets at the container carrying Mr Khan and senior PTI leaders.
Friday is a local holiday in the Wazirabad town, some 100 kilometres from Lahore, owing to which traffic remained below normal here. However, some fruit vendors, tea stalls and a few eateries and bakeries were open for business near Zafar Ali Khan Chowk, just yards away from the crime scene.
A handful of PTI workers wearing party caps and carrying flags were seen trying to block traffic by making a human chain at the intersection, but dispersed after several motorists, traffic constables and a few fellow workers persuaded them not to hinder the flow of vehicles.
Read more: Govt ready to provide all help on Wazirabad probe provided Imran is part of it: Marriyum
Upon inquiry, it emerged that none of them belonged to Wazirabad and had come from different parts of Punjab and Khyber Pakhtunkhwa.
A party worker, Abid, and his fellow from Minchinabad said they were accompanying the long march since it started from Lahore on Oct 29 on a container painted with PTI slogans and portraits of party leaders.
They were, however, skeptical of the reaction of local party workers after Thursday's incident, and one of them complained he was disappointed with the response the march received from Wazirabad. However, a senior party worker from Faisalabad suddenly interrupted and stopped his fellow from expressing such sentiments, saying people would come out when Mr Khan ordered or announced his own return.
Later, following the funeral prayers of Mozzam Gondal, the lone victim of Thu­rsday's attack, after Friday prayers, scores of local PTI supporters gathered along the GT Road and staged a protest by blocking the main highway and burning tyres.
Gondal, 35, is survived by four children and his wife. His funeral prayers were offered in his native village of Bharoki near Wazirabad city and he was buried in his ancestral graveyard. A large number of party workers attended his last rites, however the senior central leadership was conspicuous by its absence.
Later in the day, one of those injured in the attack, PTI's Ahmed Chattha, visited Gondal's residence along with his father, veteran politician Hamid Nasir Chattha.
Describing Thursday's firing incident, Ali Hassan, a salesman at a small barfi outlet located hardly 50 to 60 yards from the crime scene, said his shop was shuttered as per security protocol for the march and he was standing outside watching the PTI chairman's container pass by when he suddenly heard some commotion.
He said he initially thought it was fireworks lit to welcome the PTI chief, but he saw several people running towards his shop. When he asked one of them about the ruckus he was told shots had been fired at Mr Khan's container. He added policemen were deployed on the roofs of buildings along the road.
Kamoke-based Hassan said he was a PTI supporter and felt Mr Khan and his party would earn much more popularity and sympathy following the attack.
Mustansar Mehmood Sahi, a local PTI leader and party ticket aspirant for Wazirabad city's Punjab Assembly constituency, said he was present on the PTI chairman's container when it was fired at. As soon as they heard the sound of bullets everyone ducked and one of the bullets even brushed his shalwar, however he remained unhurt.
"I did not leave the container even then as my spirits were high and I continued raising slogans," said Sahi. He said the victim, Moazzam Gondal, was his close relative settled in Kuwait and had returned a few weeks ago to spend holidays with his family. He was participating in the rally along with his children when he was fatally hit by bullets.
Police sources said the suspected attacker belonged to Sodhra, a small town located a few kilometres from Wazirabad city, and was in the custody of the Counter-Terrorism Department that was investigating the incident.
Meanwhile, at least 3,000 policemen were deployed in and around Wazirabad after security was beefed up in the town following reports that the PTI may re­­s­u­­me its long march on Friday. How­ever, local party cadres said they were yet to receive any directions from the leadership about the next schedule of the mar­ch, and later PTI chief Mr Khan himself said he'd be back on the streets as soon as he was discharged from hospital.
Published in Dawn, November 5th, 2022