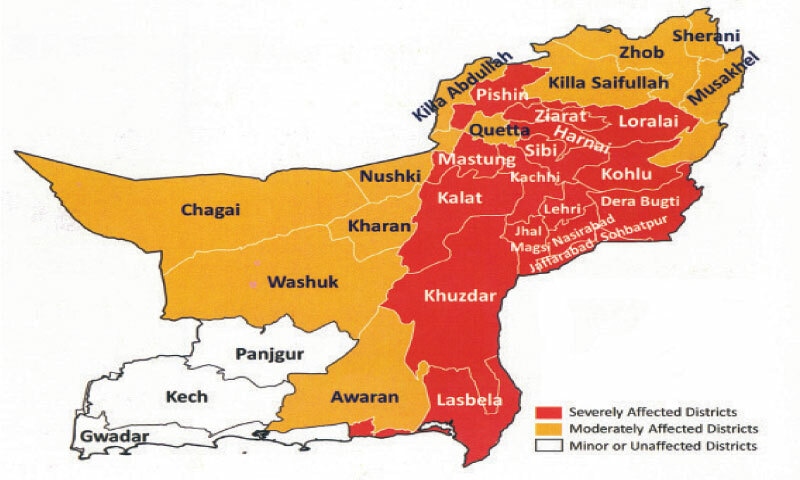 ISLAMABAD: The number of people in need of help in flood-hit areas is much higher than what has been reported, the United Nations has said.
The rapid needs assessment carried out by the government, the UN and hum­ani­tarian partners rev­ealed that many more people are in need of life-saving support services in the aftermath of the catastrophic floods.
The revised 'Pakistan Floods Response Plan 2022' will be launched in Geneva on Tuesday. The assessment, ranging from $600m to $800m, will focus on life-saving support for immediate and urgent needs.
This was revealed by UN Resident Coordinator Julien Harneis, who was addressing a press briefing in Islam­abad on Friday alongside representatives from the World Health Organi­sation (WHO) and Unicef.
Mr Harneis said $90m had been received within one month of the $160m flash appeal to provide immediate relief to flood victims.
"Food is being delivered to the vulnerable families but it is still not enough to meet the nutrition needs of people," he said.
2m houses destroyed
According to the data, the number of damaged and destroyed houses has exceeded 2m as of Sept 23.
More than 5,000 schools are currently being used to host displaced populations, while an estimated 23,900 schools have been damaged, data reveals.
Speaking on the occasion, WHO Representative in Pakistan, Dr Palitha Mahipala said more than 2,000 health facilities have been damaged or destroyed, causing a public health emergency. Unicef Deputy Representative in Pakistan Dr Inoussa Kabore said that 2.3m people have no access to safe drinking water and almost 3m are using polluted water for drinking.
Meanwhile, as per a Unicef report published on Friday, the data collected so far showed that at least 25,993 schools have been damaged or destroyed in the four provinces.
US suspends $132m payments
Also on Friday, Washington rolled over an agreement to suspend service payments on $132 million of Pakistan's debt, the US embassy in Islamabad said, as the country faces an economic crisis exacerbated by devastating floods.
According to Reuters, US Ambassador to Pakistan Donald Blome signed the agreement to extend the loan relief under the G20 debt service suspension initiative, the embassy said in a statement, adding: "Our priority is to redirect critical resources in Pakistan."
The rollover is related to the Paris club agreement in April 2020 to support 73 lower income countries during Covid-19, under which the US provided relief on $128m in debt to Pakistan.
The agreement to suspend payments on that debt, plus an additional $4m, has now been rolled over again.
Published in Dawn, October 1st, 2022