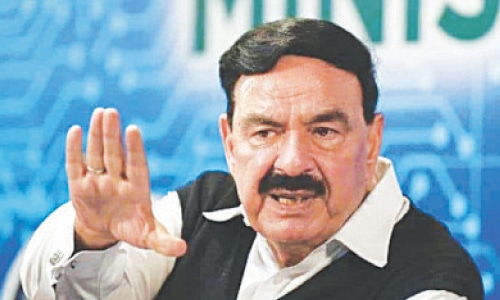 ISLAMABAD: Pakistan Tehreek-i-Insaf (PTI) Chairman Imran Khan said on Wednesday the face of democracy had been defaced by the inclusion of "criminals" in the federal cabinet and renewed his call for early elections, because an "imported government cannot run the country".
He also claimed that the PTI jalsa at Minar-i-Pakistan, to be held on Thursday (today), would make history.
While chairing the meeting of PTI's central leadership, former prime minister Imran Khan said several members of the newly announced federal cabinet were facing different cases.
An "imported government" could not run the country and the economy would suffer due to the ongoing uncertainty, he said, and insisted that general elections should be announced without any delay.
Country on verge of civil war, PTI govt-establishment ties strained months ago: Fawad
Meanwhile, Azad Jammu and Kashmir (AJK) Prime Minister Sardar Tanveer Ilyas and Awami Muslim League (AML) head Sheikh Rashid Ahmed also held separate meetings with Mr Khan.
Mr Ilyas in his meeting with Mr Khan thanked him for his support to become the AJK's premier.
In a separate development, PTI leader and former information minister Fawad Chaudhry said the country was on the verge of civil war and continuously moving towards the situation similar to that of Sri Lanka.
Commenting on Jamhoori Watan Party's chief Shahzain Bugti becoming the federal minister for anti-narcotics, Mr Chaudhry suggested that the word "anti" should be removed from his portfolio.
He said it was also unfortunate that Health Minister Abdul Qadir Patel had replaced Dr Faisal Sultan.
The former information minister claimed that the country was on the verge of civil war but it could not start just because of Imran Khan as he was speaking with responsibility in public meetings.
Separately, Mr Chaudhry admitted during an interview on a private TV channel on Wednesday that the previous government would continue to have been in power if relations with the establishment had not been strained.
He agreed that relations with the establishment had been strained for several months.
"We tried hard to mend fences with the establishment while former prime minister Imran Khan never thought of appointing Lt Gen Faiz Hameed as the army chief," he said.
Meanwhile, AML chief and former interior minister Sheikh Rashid Ahmed reached Bani Gala to have a one-on-one meeting with Mr Khan.
After the half-hour meeting, Mr Ahmed noted that Mr Khan would make a big announcement during the Lahore rally on Thursday.
Published in Dawn, April 21st, 2022