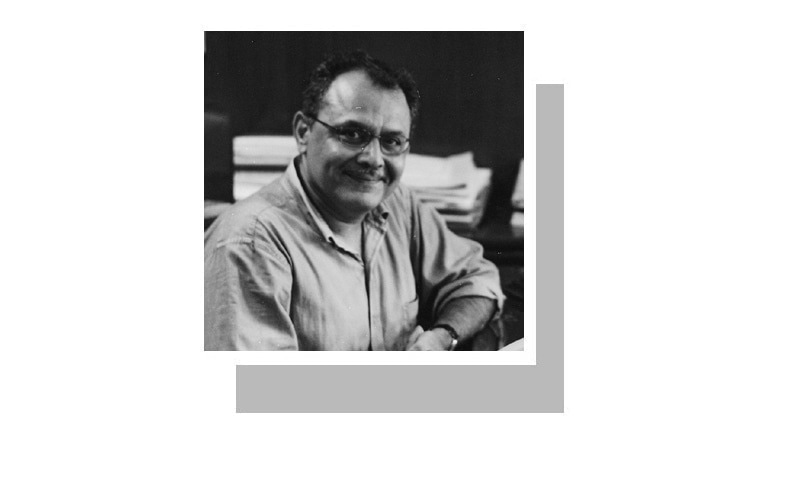 DON'T be misled by all the noise and turbulence around you on social media or the dramatic 'breaking' stories on 24X7 news channels from the prime minister's kitchen cabinet consultations, as all those represent no more than the usual final moments of a sinking ship.
By the time you read these lines on Sunday, the National Assembly would be on the verge of passing a vote of no-confidence in the prime minister, paving the way for election of the PML-N's Shehbaz Sharif as leader of the House. The opposition has already announced he would be their candidate.
While some among the media who've supported what they once called a hybrid regime are predicting a 'Trump' move before the vote that would stump the opposition, others are just hanging their heads in despair and making prophecies of doom and gloom.
Their very own hybrid Titanic hit the iceberg last October, but they did not wish to see the signs and kept believing what they wanted to. Their shock today would have been far less severe had they given a little attention to all the evidence pointing towards a scenario more realistic than theirs.
In my opinion, even as he appears to be gearing towards the next election, the prime minister has so far acted rather imprudently by not accepting his loss in the National Assembly and, as these lines were being written, seemed to have reversed his earlier decision not to attend the vote.
Let the will of the people be determined in a free, fair and transparent process, and then let it prevail.
If he and his diehards among the MNAs keep their cool, their presence in the House would lend credence to the process. But if they are assembling in the National Assembly hall to merely play spoiler it would not augur well for the country or whatever little democracy or constitutional rule exist.
Attempts to delay the inevitable, which have been tolerated rather patiently by all concerned thus far, may have worked in the governing party's mind. But pushing things to a head by not accepting that the right to govern has now been lost, could have dangerous consequences.
Calls for supporters to 'protest' at the homes of those 'foreign-funded traitors' voting against the prime minister to my mind is a perilous, irresponsible move and may push the country towards civil unrest, pitting different sections of society against each other.
Editorial: The PM has made the most of his last days in office by playing a shrewd hand
I am not a legal expert, but surely, if the collective public good — in this case safety — is being threatened, the apex court could take notice of its own accord or be petitioned to restrain the government and order what should follow a vote of no-confidence should indeed happen.
In a few days, one can be sure that all would have been settled one way or the other and then the onerous task of rebuilding the economy will need to start. More ominously, steps will also have to be initiated to bring as close as realistically possible the highly polarised sections of society.
The task would be that much more difficult as the prime minister and his close confidants, besides an army of online supporters, give no hint that they'd be willing to abandon the path of confrontation, whatever else they do. No matter how uphill a mission, it has to be undertaken.
There are lessons to be learnt by all the main players from the rather tragic state of play where three-quarters of a century after its birth, Pakistan still longs for a period of stability, of continuity of policies that could give it healthy and hearty economic growth.
It is a grave lesson for the creators of hybrid systems that they don't work. Those carried across the finish line and then propped up in office by political engineers soon turn on their benefactors as the contradictions inherent in such set-ups rise to the surface and destroy its edifice.
Let the will of the people be determined in a free, fair and transparent process, and then let it prevail. The systems thus created have self-correction mechanisms. The most significant is the process of sifting that which the electorate, unimpeded by engineering projects, is capable of doing.
In the more immediate term, after necessary reforms have been agreed on, particularly to make the electoral process as credible as possible, and steps have been identified and implemented for economic stabilisation, there must be consensus among all on holding fresh elections.
If the opposition has done its homework, this should not take long to accomplish, a few months at the most, and there should be no reason not to go for the elections as soon as possible. Let people give their verdict as to who they see as more capable of delivering.
Equally, they can punish others for their 'treason' if they believe the PTI, despite the party not having shared a shred of evidence. In his nationally televised 'phone-in' session yesterday, Imran Khan again talked of a 'proven' foreign conspiracy, even as he offered nothing that could be 'proof'.
This foreign conspiracy and his common refrain of 'loot and plunder', it seems, will form the main plank of his campaign for the next election. In the past though, corruption has resonated with the voters, foreign conspiracies have not. Let's see what the reaction is this time.
Imran Khan, who has pretty much had the field to himself for the past so many weeks, will see a different electoral contest, where buoyed by her success in persuading key institutions into assuming a neutral role in the country's politics, Maryam Nawaz will be a formidable opponent, and one who can't be dismissed lightly.
I am sure that, like me, you, and more importantly our powerful institutions, are happy to accept the results of credible polls so that all of us can escape constantly having to live in uncertain, even explosive, times. Before you say it, I will. My optimism knows no bounds.
The writer is a former editor of Dawn.
abbas.nasir@dawn.com
Published in Dawn, April 3rd, 2022