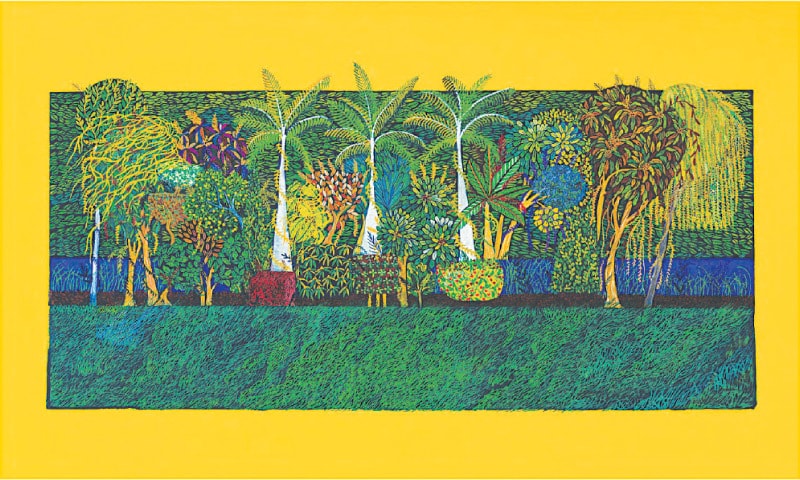 KARACHI: From their perch in one corner of the Bawwaba gallery, a Paki­stani artist's creations have inspired wonder and amazement in the hearts of visitors to Art Dubai 2022.
Wardha Shabbir's creations, vivid in colour and vibrantly imaginative, are the flagship displays at the Canvas Gallery's display at the prestigious art extravaganza, which concludes today (Sunday).
Bawwaba, which means 'gateway' in Arabic, "serves as a portal to discovery of works created in the past year or specifically for the fair, offering visitors a curated reading of current artistic developments acr­oss wide geographical scopes across "The Global South", via ambitious solo artist presentations," accor­ding to the festival's own website.
It is no surprise, therefore, that a Pakistani artist's creations fit right in.
Art circles and international media have nothing but praise for the Canvas Gallery's booth at Art Dubai 22.
Art News, in an article titled 'Top 8 Booths at Art Dubai', praised the artist's efforts, highlighting: "This Lahore-based artist deftly combines the traditional miniature painting style in which she was trained with bold, geometric blocks of color. Some of the frames take unconventional shapes, like zigzags or trapezoids. The highly detailed landscapes set within these frames are equally enticing up close as they are when seen from afar. Meanwhile, a row of four rectangular works are installed on protruding wedge-shaped drywall."
Another piece published in the National News notes that "despite their flatness, Shabbir's paintings have an architectural aspect with their renderings of pathways, courtyards and unique spaces covered in verdant flora."
Talking to Dawn from Dubai, Sameera Raja, who runs the Canvas Gallery, said, "The booth as you know has been appreciated wholeheartedly. Being the only gallery representing Pakistan, it is a matter of great pride for us all. The artist Wardha Shabbir combines traditional miniature art practice with a contemporary narrative. The blend of tradition and contemporary, old and new, past and present, fascinates the viewer. The skill and technique she incorporates to depict the vernacular flora and fauna in her work is immensely appreciated."
Expanding on the Ms Shabbir's technique, Ms Raja added, "The minute detailing of each blade of grass, a tiny bird, a flower or a tree has made viewers incredulous and question how anyone can paint so intricately. Her choice of colours, sunny yellows, brilliant pinks, greens and oranges beckon the viewer to step into the booth.
In a world recovering from the darkness of the pandemic, the colours bring much-needed cheer, hope and joy."
Published in Dawn, March 13th, 2022