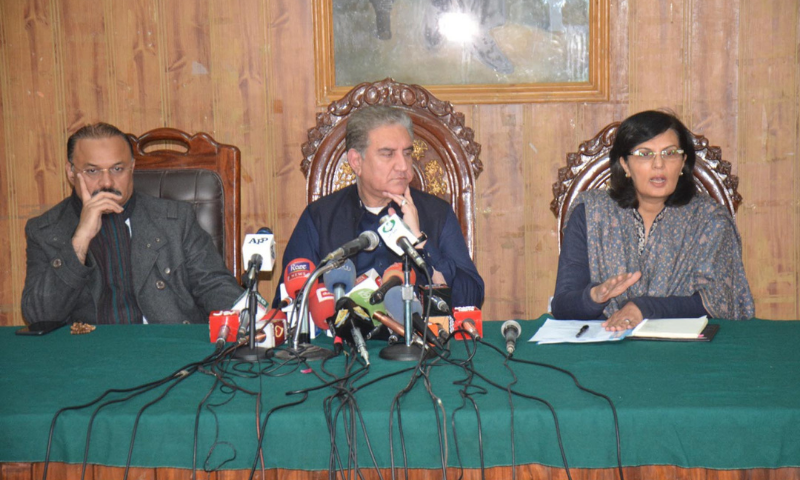 LAHORE: Foreign Minister Makhdoom Shah Mahmood Qureshi has said the government was not scared of the opposition's claims of launching a movement, but any such move must be within the ambit of law.
"It is the constitutional right of the opposition to launch or not any movement, but remaining under the law," he said addressing the Multan District Coordination Committee (DCC) meeting along with Special Assistant to the Prime Minister (SAPM) on Poverty Alleviation and Social Protection Dr Sania Nishtar here at the commissioner's office on Friday.
Mr Qureshi said the so-called champions of democracy were trying to dislodge the government. "In the past a better understanding prevailed as three elected governments had completed their full term," he said, adding the PTI government would also complete its term and transfer the power to the next government peacefully in 2023.
He said the government's special focus was on the development of south Punjab as billions of rupee projects were launched for the improvement of infrastructure in the region. Practical steps to end the sense of deprivation in south Punjab were taken and mega projects, including Nishtar II, mother and child care hospital etc were initiated there, he added. Mr Qureshi said the biggest challenge for the government was inflation and steps were being taken to address it. Ehsaas Ration and Ehsaas Kifalat programmes had also been launched to minimise the effects of inflation on the public, he added.
He said under the health card programme Rs1 million health treatment would be provided free of charge to every family without any discrimination.
Dr Sania Nishtar said more than 38 million families had been registered in the new survey and Rs12,000 assistance was provided to 8 million families under the programme, adding the assistance would be enhanced to Rs13,000 from March 1.
She said registration for Ehsaas ration programme was also underway to provide Rs1,000 monthly subsidy on flour, pulses and oil or ghee to 20 million families through specified grocery stores that would also get eight percent commission on the sale of these commodities.
Briefing the meeting, the commissioner said practical steps were taken for cleanliness and beautification of the city.
He said water purification plants would be activated with the help of private sector and completion of uplift projects across Multan division was his priority.
Published in Dawn, January 8th, 2022