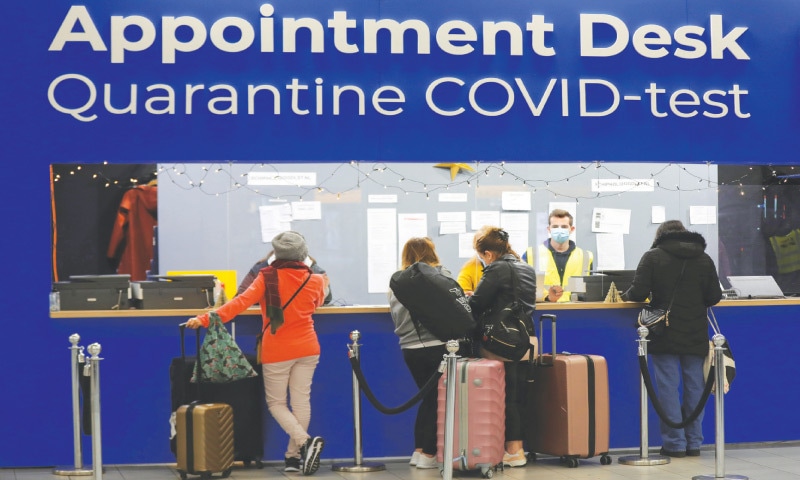 SCHIPHOL: Dutch autho­rities scrambled on Satur­day to see if 61 passengers from South Africa who tested positive for Covid-19 have the Omicron strain, as shutters came down around the world to contain the new variant.
Germany became the second European country to find a suspected case of the highly infectious new variant, which has sparked fears of a major setback in the global effort to end the coronavirus pandemic.
Alarm grew after the World Health Organisation said the new type, originally known as B.1.1.529 and subsequently renamed Omi­cron, was a "variant of concern" and more transmissible than the dominant Delta strain.
Australia and Thailand joined the United States, Brazil, Canada and a host of other countries around the world restricting travel from southern Africa where the strain was first discovered.
Anxious travellers thron­ged Johannesburg international airport, desperate to squeeze onto the last flights to countries that had imp­osed sudden travel bans. Many had cut back holidays and rushed back from South African safaris and vineyards.
"It's ridiculous, we will always be having new variants," British tourist David Good said, passports in hand. "South Africa found it but it's probably all over the world already."
"I think we got the last two seats," said Briton Toby Reid, 24, who had been watching the sunrise on Cape Town's Table Mountain with his girlfriend when the ban was announced.
The main countries targe­ted by the shutdown inc­lude South Africa, Botswana, Eswatini (Swaziland), Lesotho, Namibia, Zambia, Mozambique, Malawi and Zimbabwe.
But in a sign of the how difficult it is to contain the virus, the Netherlands found that almost one in ten — 61 out of 539 — people who had arrived on Friday from South Africa were positive for Covid-19.
The infected people, who flew in on two KLM flights from Johannesburg, were being kept quarantined in a hotel near Amsterdam's Schiphol airport, one of Europe's biggest international air hubs.
"The positive test results will be examined as soon as possible to determine whether this concerns the new worrisome variant," the Dutch Health Authority said in a statement.
Europe is already struggling with a coronavirus surge that has forced several countries including the Nether­lands to tighten restrictions, and a new variant threatens to worsen the situation.
A German official said that health authorities have identified the first suspected case in the country, in a person who returned from South Africa.
Published in Dawn, November 28th, 2021