KARACHI: As Karachi received light to moderate rain on Thursday, most parts of the metropolis, particularly Central district, witnessed a flood-like situation.
The authorities warned that the situation was unlikely to improve because of the huge, concrete and kilometres-long infrastructure of the Green Line bus service which had led to almost collapse of the Central district's drainage and sewerage system.
Though most parts of the city faced the similar situation as many roads were submerged under rainwater after first spell of the day, quick response from the city administration, pumping arrangements by the Karachi Water and Sewerage Board and manual cleaning by sanitary workers of the Karachi Metropolitan Corporation led to normalcy to a large extent.
However, Central district's Shershah Suri Road witnessed a flood-like situation, which led to suspension of vehicular traffic on several intersections of the key road. Many motorists were seen parking their vehicles on the side of the road after failing to drive them on the flooded artery. The situation remained out of control even several hours after the downpour and, as suggested by the official, was unlikely to improve soon.
Green Line infrastructure blamed for havoc in Central district; power supply interrupted; wet spell in Sindh to continue till tomorrow
"It's all due to Green Line structure which has been built by the [federal government's] SIDCL [Sindh Infrastructure Development Company Ltd]," said Karachi administrator and Sindh government spokesman Barrister Murtaza Wahab. "I have remained at Nagan Chowrangi intersection for more than six hours but my team and heavy machinery failed to clear the road," he said. "The Green Line project has been built in the middle of the road with no drainage system in place. The company finally found a solution and installed two small pipes for that purpose. Last year we had witnessed a similar situation after rains and this year it's same again. We have – formally and informally – requested the SIDCL to fix this problem but they don't pay heed. The situation here [at Nagan Chowrangi and Shershah Suri Road] would not improve if they [SIDCL] don't fix it."
On the other hand, the Met experts see fast changing weather behaviour in the port city where they said it was unusual to record such count of rain in September. Though they said the monsoon season had not yet come to an end this year but was close to it, they suspected such frequency and intensity of rain in Karachi in September could be due to the impact of much-talked about climate change.
"The monsoon season is very much in and it usually continues till the end of September," said Sardar Sarfaraz at Karachi's Met office. "But definitely the September rain this year is higher than average as we don't have such count of rain in this month in our city. This year weather's behaviour is a little different and unusual, I would say."
Asked about the impact of climate change which could have led to such extreme weather and rain in September in Karachi, he said it would be hard to establish a trend on the basis on a single event.
"It may take time to reach any conclusion about this particular issue but scientifically it has been proven that climate change has increased the frequency of extreme events. So you never know. We are already seeing and documenting the data that how extreme weather events are taking place," he said.
KE's 200 feeders affected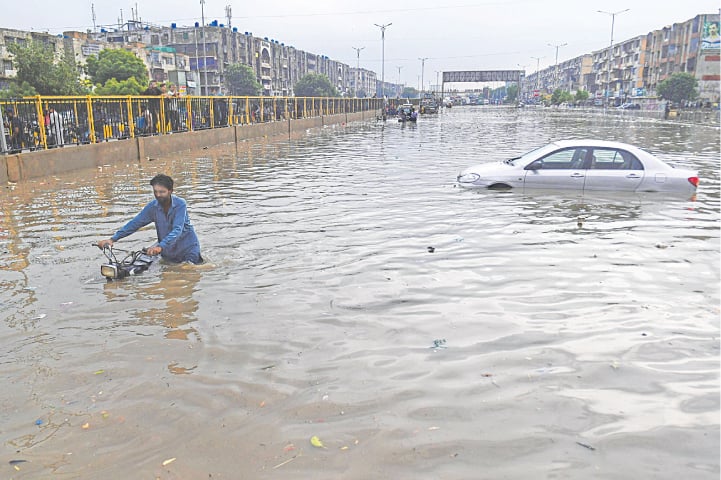 Amid complaints of power failure from several areas after rains, the K-Electric claimed that that it had ensured that power supply to the city and its adjoining areas remained stable even during the downpour.
"K-Electric teams remained vigilant and continued to monitor the situation as the weather intensified. The majority of the utility's distribution network consisting of 1,900 feeders remained stable and continued to provide a safe and reliable supply of electricity," the KE said in a statement. "Supply to areas with high incidence of theft and kunda (illegal connections) usage was preemptively shut down in the interest of public safety; the supply was restored after receiving clearance from KE's ground teams."
It said that Karachi received moderate to heavy rainfall in short bursts in the afternoon and as a result power supply to some areas was affected. At its peak, approximately 200 feeders were affected, many of which were temporarily powered off out of caution owing to the prevalence of safety hazards in these areas, such as kundas and encroachments of public infrastructure by TV and internet cables, it added.
"However, restoration efforts in these areas also began immediately after the rain subsided and clearance was received from ground teams. With more rain predicted by the Met office, the people are advised to continue observing precautionary measures and maintain a safe distance from electricity infrastructure at all times," said the KE statement.
Rains to continue till tomorrow
The wet spell is likely to continue in Karachi and other districts of Sindh till Saturday (tomorrow) as monsoon currents of moderate intensity persist in the eastern parts of the province, according to the Met department.
The maximum and minimum temperature recorded in Karachi on Thursday was 36.2 degrees Celsius and 28 degrees Celsius.
The Met department recorded maximum rainfall in Surjani town (70mm) followed by North Karachi (49.2mm), PAF Base Faisal (47mm), Nazimabad (20.2mm), Airport old area (19.2mm), Saadi Town (16.1mm), University Road (13mm), Jinnah Terminal and Orangi Town (10.6mm each), Quaidabad (8.5mm), DHA Phase II (7mm), , Gulshan-i-Hadeed and PAF Base Masroor (5mm each), Gulshan-i-Maymar (3.6mm) and Keamari (2.7mm).
According to the Met department's website, rain-wind/thunderstorm with isolated heavy falls accompanied by occasional gusty winds are likely to occur in Tharparkar, Badin, Umerkot, Sanghar, Mirpurkhas, Sukkur and Khairpur districts during the next two days.
Similar weather conditions are expected to prevail in Karachi, Hyderabad, Thatta, Nawabshah, Jacobabad, Shikarpur, Dadu and Jamshoro districts till Saturday.
Published in Dawn, September 24th, 2021