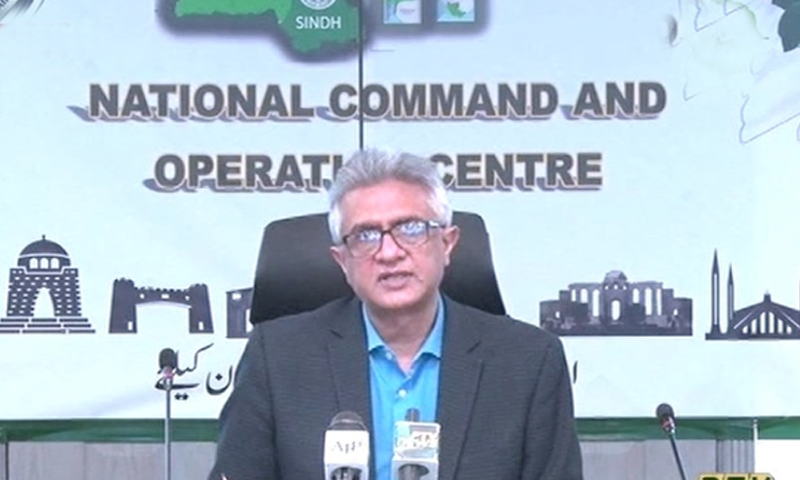 Special Assistant to the Prime Minister (SAPM) on Health Dr Faisal Sultan said on Tuesday that a special committee of the National Command and Operation Centre (NCOC) was monitoring the oxygen situation in the country and trying to improve it.
He made the comments during a press conference in Islamabad to apprise the public about the government's steps to deal with the coronavirus pandemic.
Asking the public to "trust" decisions taken by NCOC, he said the forum was working to increase the capacity of hospitals.
"Existing oxygen plants are being monitored and we are looking at additional plants. The [Pakistan] Steel Mills plant was also talked about so it is being looked at. We have also diverted [oxygen supply] from non-essential industries."
Besides this, the NCOC was also monitoring the logistics of supplying oxygen from the plants to the hospitals, he said, adding that the forum would issue guidelines regarding oxygen usage to prevent losses.
SAPM Sultan said that lockdowns were being imposed in areas with high positivity rates such as Mardan in Khyber Pakhtunkhwa.
"Government will not hesitate to lockdown more areas if other interventions don't work in the next few days," he added.
Moving on to the country's vaccination campaign against the coronavirus, Dr Sultan said the rollout was "moving forward without any obstacles".
He said an impression was being given that the government was only relying on donations to get vaccines. "We are buying vaccines from three separate manufacturers. Since March, we have bought three million [vaccine doses] and signed deals for 30m."
In addition to these, 1.7m doses had been donated by China, the SAPM said. "To say we are waiting for grants is incorrect and misleading," he added.
He recalled that there was a global shortage of Covid-19 vaccines and countries' local supply was not enough to cater to their populations which was why vaccine rollouts had slowed down in some rich countries despite advance booking of doses.
"A lot of big manufacturers could not meet demands. Covax (global vaccine alliance) made a commitment but the programme is facing difficulty because of the global shortage. This is why we had to change our direction," he elaborated.
Giving details about vaccine administration, Dr Sultan said there were 1,200 vaccinations centres countrywide of which 22 were mass vaccination centres. "As of today, two million vaccine doses have been administered. So it is going forward really well. From tomorrow, people aged over 50 will be able to walk in [for vaccination]."
He added that vaccine registration for people 40 and above had begun from today.
The SAPM urged people to get themselves vaccinated, terming it "really important".
"Use face masks, keep a distance of six feet, avoid places where there are crowds. Let's celebrate Ramazan and Eid with simplicity," he said.
The NCOC in its meeting today analysed in detail oxygen demand and supply, the forum said in a statement.
It also discussed the option of importing oxygen from abroad.
The meeting decided that routine elective surgeries in all public and private hospitals in the country would be postponed.
The managing director of Utility Stores Corporation briefed the forum about supplies in areas that would be put under lockdown.
'Govt exploring all options for supply'
Meanwhile, Minister for Energy Hammad Azhar said the government was "exploring all options" to arrange additional supplies of oxygen for the country.
Azhar, who was previously the minister for industries and production, said in a tweet that the ministry had started working with private oxygen manufacturers to enhance production capacity after the pandemic's first wave last year.
As a result, production capacity was increased by 308 metric tonnes, he said.
"However, it is necessary to adhere strictly to SOPs as the cases are rising exponentially and oxygen requirements are growing at an even faster rate," he added.
High number of critical patients
Addressing a press conference later in the day, Information Minister Fawad Chaudhry said the number of critical patients in the country had risen over 5,000 for the first time since the pandemic emerged in Pakistan in March 2020.
"The previous peak was 3,400. Our situation would have been similar to India's if we had not taken steps. We have added 7,000 oxygen beds and 7,000 beds with ventilators in this one year. If this increase had not been done, our situation would have been similar to India's," he said.
Chaudhry said the country was producing 792 metric tonnes of oxygen daily of which around 500 MT was being used by the health sector which was enough for the critical patients.
The country had three options if more oxygen was needed — it could divert oxygen being used by industries or import it from China or Iran, he added.
The minister said that even though Iran had been heavily affected by the coronavirus, after Foreign Minister Shah Mahmood Qureshi visited the country recently, it was decided that Iran would supply oxygen to Pakistan if needed.
"Because of our steps in one year, there is a crisis in Pakistan [right now] but not panic," he said warning however that "if the situation does not improve, we will face problems and our difficulties will increase."
NCOC bans tourism
Meanwhile, the NCOC in a meeting decided to impose a "complete ban" on tourism from May 8 to 16, including during the Eid holidays.
A notification by the Interior Ministry listed the decisions taken by the NCOC today which include:
Ban on travel (inter-provincial and inter-city transport) during the Eid holidays; locals of Gilgit Baltistan allowed to travel.
All tourist resorts, public parks, hotels, restaurants shopping malls, and transport to remain closed.
Roads leading to tourist spots to remain closed with a special focus on Murree, Galiyat, Swat-Kalam, Sea View/beaches and northern areas.
Uninterrupted electricity supply to be ensured during Eid holidays.
A day earlier, Pakistan Army troops were deployed across the country to help civil institutions in implementing the standard operating procedures (SOPs) against the coronavirus.
Enhanced deployment had been done in 16 cities where the positivity rate was "very high".
These cities include Islamabad; Peshawar, Mardan, Nowshera, Charsadda and Swabi in Khyber Pakhtunkhwa; Rawalpindi, Lahore, Faisalabad, Multan, Bahawalpur and Gujranwala in Punjab; Karachi and Hyderabad in Sindh; Quetta in Balochistan and Muzaffarabad in Azad Jammu and Kashmir.
During the last 24 hours, Pakistan reported 4,487 new coronavirus cases and 142 deaths. The country's tally of infections stands at 804,939 while the death toll is 17,329.
---
Additional reporting by Shakeel Qarar and Naveed Siddiqui.