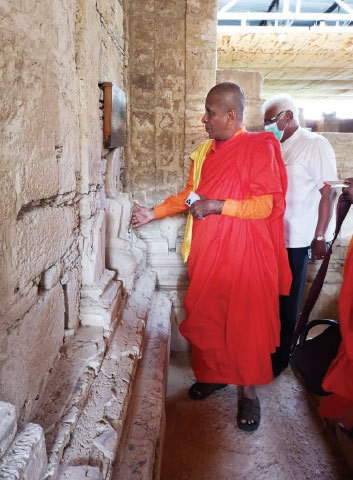 HARIPUR: A group of Buddhist monks from Sri Lanka visited archeological sites in Bhamala and Julian areas of Khanpur tehsil here on Thursday.
The monks totalling 11 are in the country on an eight days visit on the invitation of Prime Minister Imran Khan.
Sub-divisional officer of Khanpur Museum Nawazuddin told Dawn that the invitation was extended by the premier during a recent visit to Sri Lanka as part of efforts to promote religious tourism in the country.
He briefed monks about the history of Buddhist sites, efforts to preserve them, and plans to excavate on new sites on the directives of the archaeology department.
The monks worshiped at the Buddhist Monastery of Julian and Bhamala Stupa from the 2nd century CE.
They penned views in the visitors' book expressing satisfaction with the government's efforts to preserve their sacred places.
The monks also appreciated Prime Minister Imran Khan's vision for the promotion of religious tourism in the country saying this will help strengthen relations between Pakistan and their country.
Praise govt for preserving historical places
Director (archaeology) Dr Abdul Samad was also present on the occasion.
The officials said the monks would visit Buddhist sites in Mardan and Swat as well.
KILLED: Three people, including a woman, were killed in separate incidents here.
According to the police, Mohammad Ismail attacked his maternal uncle, Mohammad Sadiq with a dagger a remote village of Swabi Maira village council injuring the 65-year-old critically.
The injured was shifted to the Haripur Trauma Centre but the doctors pronounced him dead. The motive of the murder was stated to be a marriage dispute.
In another incident, a couple was gunned down over an old enmity.
The police quoted Jaffar Khan of village Dheri Abdullahpur as claiming that he was busy cleaning up the house of his close relative, Mohammad Nawaz, when Mohammad Ilyas, Nadir, Abdul Manaf and Waqas made a forced entry and opened indiscriminate fire killing Mohammad Nawaz and his wife, Shaheen Bibi, and injuring him. The gunmen fled thereafter.
The police claimed that Nawaz's son, Tahir, was charged with killing Babar Khan in the village two years ago. However, the model criminal court acquitted him a couple of days ago due to insufficient evidence.
Published in Dawn, April 23rd, 2021