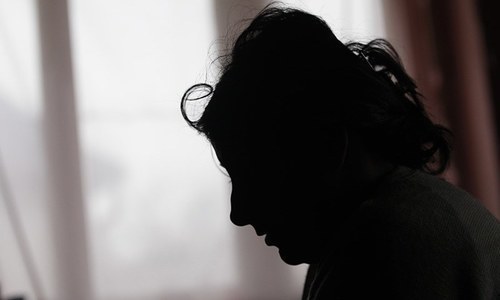 KARACHI: A married woman "fed up with blackmailing, harassment and threats" committed suicide in a Shadman Town locality, officials said on Friday. Four of the six suspects nominated in the FIR of the incident have been taken into custody, sources told Dawn.
Shahrah-i-Noorjehan police said that the 41-year-old woman ended her life by hanging herself from the ceiling fan with her dupatta on Wednesday.
The body was taken to the Abbasi Shaheed Hospital to fulfil medico-legal formalities.
Area SHO Liaquat Hayat Mehsud said that on Thursday the family lodged an FIR and nominated six persons in the case. According to the FIR, the complainant, a brother of the deceased, claimed that his sister committed suicide because she was fed up with the "blackmailing, harassment and threats" of the nominated suspects.
He also presented three audio messages of his sister to this effect, which she had sent to her female friend.
The police have registered a case under Section 322 (Qatl-bis-sabab) and 34 (common intention) of the Pakistan Penal Code.
Family says suspects were blackmailing the woman
Gulberg SP Mohammed Azhar Khan Mughal said that one of the suspects had allegedly made an objectionable video of the victim and threatened her of putting the same on social media. The officer added that the police were investigating the case.
Man held for murder in Clifton
Police on Friday arrested a suspect, Adam Khan alias Lala, for allegedly killing a Hindu man and wounding another after Holi ceremony in Clifton on March 29, said SSP South (Investigation), Imran Mirza.
Police said the probe revealed that the murder appeared to be outcome of some personal issue.
Deepak was shot dead while Vikas was wounded when they were returning from a Holi programme in Hindu Para of Clifton on the night of March 29.
Elaborating, the SSP added that the held suspect was interested in a Hindu girl who was recently engaged to Deepak. The suspect took this engagement as an issue of his "ego" and wanted the girl not to marry Deepak.
On day of the incident, Adam Khan was drunk and opened fire on Deepak with intention to kill him.
The police recovered the weapon and the motorbike used in the murder.
Published in Dawn, April 10th, 2021