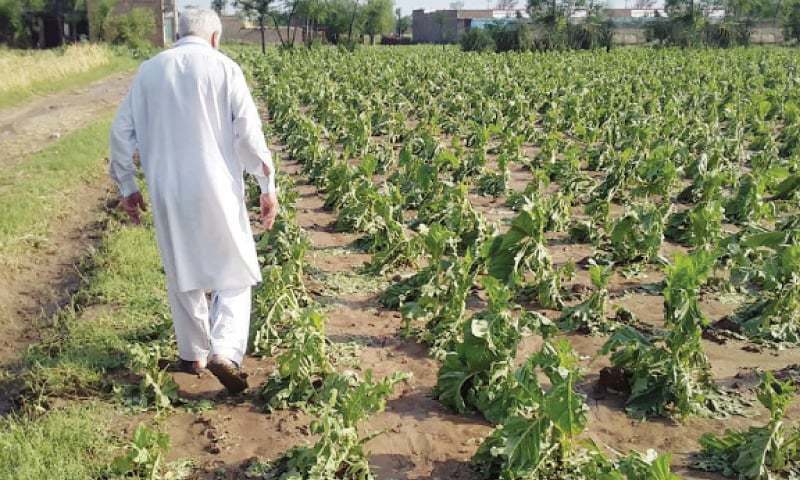 SWABI: Multinational and local tobacco companies have increased their requirements of tobacco crop by 10.86 million kilograms to 56.48m kg for the upcoming year, sources told Dawn on Wednesday.
Last year, the total demand from tobacco companies was 45.61m kg. Tobacco growers from Khyber Pakhtunkhwa have strongly condemned the delay, stating that they could not cultivate the crop according to their earlier plan. Among the tobacco growing districts in the province, Swabi is known as "House of Tobacco".
The announcement of tobacco demand — which is usually announced in the beginning of November annually — was delayed in the current year by well over a month, the sources said.
If there is less demand for tobacco, growers opt for sowing wheat in November. Growers allege that companies delay the demand announcement in order to manipulate prices. One year, the companies will say there is less demand and pay growers a good price.
The next year, more growers automatically opt for sowing tobacco and that's when the companies manipulate the situation, knowing that there will be surplus crop and bring down prices.
The companies' requirements were announced via the Pakistan Tobacco Board (PTB). In total 61 companies had announced the demand and in the current year only 50 buyers had declared their quota, said the sources.
According to PTB, Pakistan Tobacco Company (PTC) would buy 26.50m kg, Phillip Morris international Pakistan 13.00m kg, Khyber Tobacco Company and A-Q enterprises each 2.20m kg and the remaining 10.80m kg by 58 national companies.
When contacted, tobacco grower leaders said the companies always adopt policy to purchase tobacco from them at low prices and to achieve this objective they adopt different tactics and strategies.
General Secretary of Kashtkar Coordination Council Liaqat Yousafzai said that they welcomed that increase in quota but a serious issue of determining the crop price for the upcoming year has yet to be finalised.
Published in Dawn, December 24th, 2020