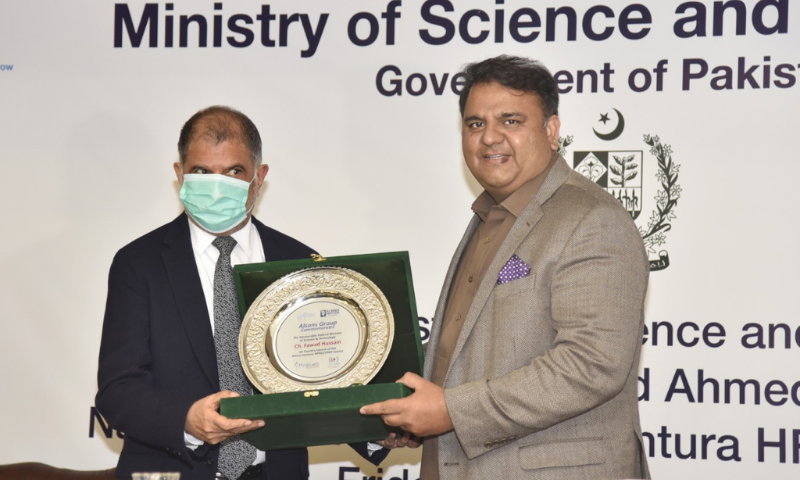 ISLAMABAD: The Ministry of Science and Technology on Friday held the national launch of the Alnno-Ventura HFNO device, a UK qualified, sophisticated respiratory device developed in Pakistan by Alsons Group.
Minister for Science and Technology Chaudhry Fawad Hussain hosted the event which was attended by government officials and foreign dignitaries as well as senior members of the medical fraternity.
The ministry said the global pandemic caused by the rapid spread of Covid-19 had led to a disruption and health emergency of unprecedented magnitude.
"With most medical equipment being in short supply globally due to the pandemic, as well as being a third world country with limited medical infrastructure it was imperative that Pakistan become self-reliant and able to look after its own needs," the minister said. Alsons Group has entered the medical equipment manufacturing industry by developing a lifesaving device that is safe, effective, cost efficient and easy to use.
The Alnno-Ventura follows the designs and specifications of the UCL Ventura manufactured under licence and instructions from UCL Institute of Healthcare Engineering in the UK.
The UCL Ventura was designed as a collaboration between UCL Institute of Healthcare Engineering, UCL Mechanical Engineering, University College London Hospital and Mercedes-AMG high performance power trains. The device was developed with support from the Pakistan Engineering Council and the Ministry of Science and Technology, and is the first locally manufactured respiratory device to have been approved for medical use by the Drug Regulatory Authority of Pakistan (Drap).
Alsons Group Chairman AR Allana urged the government to continue providing a conducive environment for the local industry to prosper. He said the government should give preference to locally manufactured medical devices over imported ones to control flight of capital.
"The government can also help create favourable conditions for export of medical devices, bringing much needed foreign revenue to the country," he said.
The Alsons Group has also developed a high tech electro-mechanical ventilator — AlnnoVent — which is currently undergoing final tests and trials at the Pakistan Engineering Council.
Hospicare Systems, a distributor of medical devices with a nationwide footprint, has been nominated as the exclusive distributor for the Alnno-Ventura.
The minister said Pakistan has had significant success in this whole process.
"We are convinced we can do it. When corona started spreading, we were importing everything. But there was a severe shortage of masks and other protective gear. We worked first with Pakistan Council for Scientific and Industrial Research and then with Defence Productions. We received 57 designs and seven were shortlisted. Ventilators are now being produced entirely in Pakistan, restoring our belief that we can," he said.
Published in Dawn, November 14th, 2020