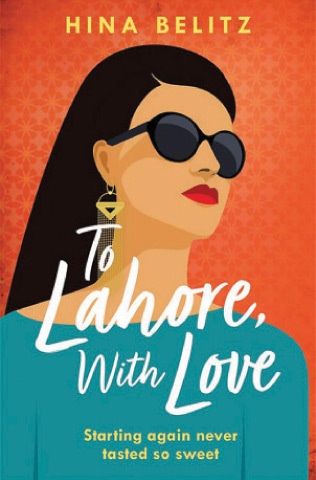 British Asian lawyer Hina Belitz's debut novel, 2016's Set Me Free, earned her the right to air her views about love in National Geographic's documentary The Story of Us. She has followed this up with To Lahore with Love, a bicultural novel about an equally bicultural heroine, Audrey 'Addy' Mayford, who lives in the United Kingdom with her Irish mother and Pakistani paternal grandmother, Nana.
Addy refers to her grandmother as 'Nana', which is perfectly accepted in the West; however, although it is disagreeable to me to point out mistakes appearing on book-jacket blurbs, I should do so in this case. The blurb on the back cover erroneously notes that Addy is brought up by her "Pakistani nana" (implying maternal grandfather) which makes it evident that the publication editor in question did not bother to familiarise himself or herself with even a cursory appraisal of the novel's contents.
The adage 'never judge a book by its cover' never rang truer than in the case of Belitz's book. Although marketed as a bicultural chick-lit endeavour, in point of fact the text is far more than that. Elegantly written, humorous and eminently readable, it begins with a scene where Addy suspects her beloved husband, Gabe, of cheating on her. Although this is not conclusively proven until much later in the book, Gabe walks out on her inexplicably a few days later, leaving her feeling absolutely devastated. At the urgings of her best friend, Jen, and encouraged by her relatives, Addy decides to sojourn to Lahore in order to discover her roots as well as find some personal peace.
A gourmet cook, Addy works at a restaurant called Arabian Delights, and the book is liberally interspersed with about 20 recipes, both Pakistani (thanks to the influence of Nana) as well as otherwise. In a tradition reminiscent of Mexican novelist Laura Esquivel's Like Water for Chocolate, food is an integral part of the creative underpinnings of the novel; Addy possesses a recipe to counter her every negative mood, or enhance her every positive one. Yet, although she is very much at peace with her profession, one gets the sense that she is conversely equally uneasy about her cultural identity.
Having lost her father to an accident when quite young, she remains constantly torn between the deep, spiritual Islamic faith of Nana and the Christianity to which her mother still adheres. Addy pointedly notes that she had two wedding ceremonies — one in white Western garb, the other in red and gold — and while this is understandable, it reflects a psychological divide that is inherent in many of her actions and motives.
Although marketed as a bicultural chick-lit endeavour, Hina Belitz's sophomore novel is elegantly written, humorous and eminently readable
Nana is a delightful character; warm, caring and a firm believer in djinns that crop up in the story with almost religious regularity! Whether they are referred to in a surreal Eastern version of Little Red Riding Hood, or lurking behind doors in Addy's family home, or as part of a legend involving her great-grandfather, genies are a pervasive element of the novel and may implicitly be narrative devices that underscore both Belitz's writing abilities as well as Addy's culinary ones.
On arriving in Lahore, Addy encounters a dashing Pakistani youth named Haq with mesmerising turquoise and gold eyes, and the reader finds oneself hoping that she will comprehensively ditch Gabe and hook up with the Pakistani dreamboat. I will not divulge any of the novel's impressively intriguing plot twists (such as the mystery of what really happened to Addy's father). However, I should note that Addy is sincere about wanting to repair her relations with Gabe — and even makes a pilgrimage to the shrine of Data Darbar in order to petition the saint for her marriage to be fixed and her body to bear fruit. For, in spite of being able to create excellent meals, Addy has, to date, found it challenging to produce a child. In her supplications to the saint, therefore, she is no different from the tens of thousands of other childless women who bring their dreams and hopes to this deeply revered Lahori site.
One of the most refreshing things about this novel is that Belitz refrains from cramming it with characters in that quasi-Dickensian style favoured by so many Asian novelists these days. With the exception of one of Addy's Lahori uncles, every single major character is well sketched, although they are few and far between. Gabe, Addy's best friend Jen, Haq, and Nana all fulfil their roles smoothly and admirably, without compromising on either the smooth movement of the plot or Belitz's descriptions of background and motifs.
Indeed, the author does full justice to motifs as well; as noted earlier, the djinns are an integral element of the tale, as are Lahori influences such as the classic legend of Anarkali. Speaking of the legendary courtesan and dancer who was walled up alive for being in love with a royal, let us return full circle to Addy's yearning and quest for love.
What is puzzling is that the novel is more about looking for love in all the wrong places. Addy does not find sustainable love with her less-than-sterling husband; she lacks the love of a father for the most part of the book; she sublimates her love for her illiterate grandmother into a set of carefully transcribed recipes and, while she esteems Lahore and is grateful to it for what it can offer her, she does not truly 'love' it in any authentic sense of the word. Disturbingly enough, it appears unclear whether her feelings for the handsome Haq will be able to materialise into genuine affection at any point — certainly the sexual chemistry is undeniable, but then that in and of itself can hardly constitute love.
That Addy displays a flair and passion for cooking, though, is without question and perhaps it is from this aspect of matters that readers will derive the most satisfaction — because food, like music, is a type of universal language that transcends cultural barriers, personal tragedies and unforeseen circumstances. Addy's life as a wife, daughter, friend and lover might be unstable, but her skill at cooking is as solid as the pots and pans she uses to dream up culinary solutions to her problems.
Lest any of you readers start to laugh, let me add with a perfectly straight face that she seduces her potential second husband with...a calming dish of cauliflower!
The reviewer is assistant professor of social sciences and liberal arts at the Institute of Business Administration, Karachi
To Lahore with Love
By Hina Belitz
Headline, UK
ISBN: 978-1472231727
272pp.
Published in Dawn, Books & Authors, November 1st, 2020