KARACHI: A ruthless bloodbath was witnessed at the Pakistan stock market on Thursday where the KSE-100 index bled profusely by 1,299 points (3.15 per cent) and closed at 39,888, cutting through the psychological barrier of 40,000 points.
Such was the selling pressure that the index sank to intra-day low by 1,911 points. The KSE-30 index plunged 5pc but reversed just in time to save the market from trading halt.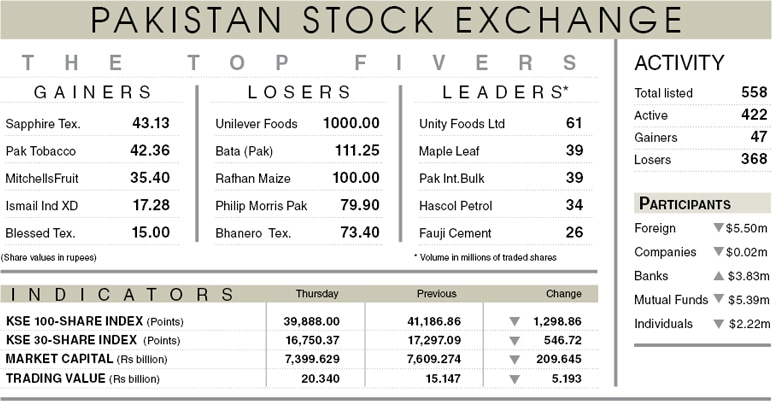 The major trigger that sent panic stricken investors to dump stocks on almost all sectors was the word from the government's Covid-19 monitoring desk that the second wave of the pandemic had struck the country as the new infection cases rose to 16-week high at 908 for a single day on Wednesday.
It raised the spectre of the market yet again sinking to the pit amidst more lock downs and a hit to already doddering economy. The previous highest single day decline in 10 years was noted on March 10, 2020 when the index had sunk 2,302 points (6.41pc) on the full-blown pandemic taking hold of the country.
The gloom and doom was exacerbated by the rapid rise in Covid-19 cases around the world which pulled down the equity and commodity markets globally.
Other than that the market continued to witness heavy selling by foreign funds which on Thursday amounted to $5.50 million, taking the four-day outflow to significant sum of $21.35m. Among local participants, mutual funds also offloaded stocks worth $5.39m, which was ascribed to switch over from equities to money market funds on continuous appreciation of the rupee and partly to meet the redemptions.
Also, the last day of the roll over week (market to remain closed on Friday) investors hurried to sell and square their positions which put further pressure on the index. The sound and fury on the local political front also depressed sentiments.
Selling pressure was seen across the board in the lead of exploration & production, fertiliser, banking and cement sector stocks. Despite some slight recovery towards the close around two dozen stocks hit their lower circuits.
Volumes increased to 541.8m shares (up 47pc day on day). Traded value also increased by 34pc to reach $126.9m.
Heavyweight scrips that were major drags on the index included the Pakistan Petroleum Ltd, Engro Cor­po­ration, Pakistan Oilfields Ltd, Hub Power Company Ltd and Habib Bank Ltd.
Published in Dawn, October 30th, 2020