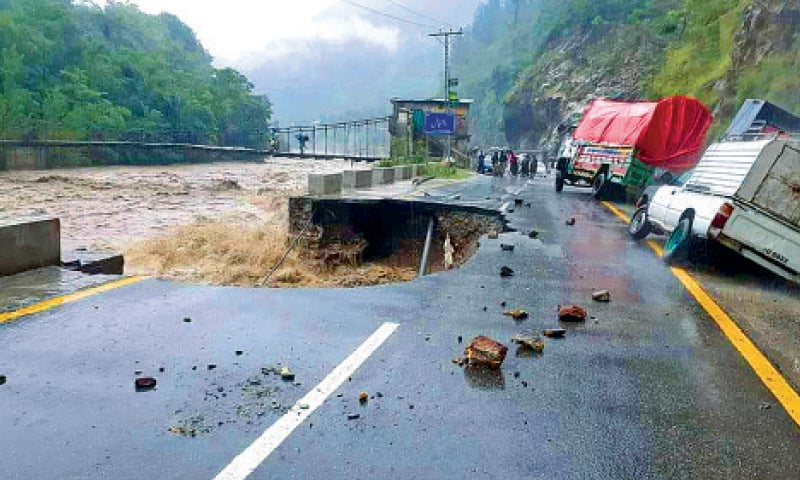 SWAT: At least six people were killed and 20 others received injured when hours long torrential rains swelled rivers and streams in Swat and Shangla districts.
Most of the causalities and damage due to raging torrents were reported from Malakand division. Four people were killed in Swat and two in Shangla.
Officials said that at least four people were killed and six others were injured in Swat due to flashflood and landslides caused by heavy downpour, which started on Monday night.
Rescue 1122 officials in Swat said that a woman drowned in the Swat River in Fatehpur area and they were looking for her body.
Fazl Wahid, 60, drowned in Matta tehsil while collecting timber from then flooded river. Another man also lost his life in similar fashion in the same area while a 14-year-old boy died after one of his house walls collapsed crushing him beneath debris.
Flooded Swat River washes away three bridges; major roads remain blocked
Five persons, who were working at a factory in Watkey area, were badly injured after a landslide hit the factory.
All the five persons were rushed to Saidu Teaching Hospital while another person was injured in a house collapse incident.
High level flood in the Swat River washed away three bridges and inundated six trout fish hatcheries in Chail Bashigram area. "Several villages located on the other side of Chail Bashigram River were cut off after the bridges connecting their areas with the lower Swat were washed away," said Husain Ali, a resident of Bashigram.
Swat Deputy Commissioner Saqib Raza Aslam said that all the residential areas located along the Swat River and its tributaries were vacated while tourists were also evacuated from hotels.
He asked the tourists to avoid visiting Upper Swat till Thursday.
The district administration also asked the locals to refrain from going near the Swat River.
At least 13 people were stranded in Jarrey area along the Swat River when floodwater surrounded them; however, they were rescued by the locals.
The heavy downpour caused high level flood in the Swat, Darla and Chail Madyan rivers besides Marghuzar and Jambil streams.
In Shangla district, two people were killed and seven others received injuries due to house collapse. Also heavy rain and flashfloods led to blockade of major roads including Karakoram Highway and Bisham-Swat Road.
Shangla Deputy Commissioner Imran Hussain Ranjha told Dawn that a house collapsed in Batkot area of Bisham tehsil, killing two brothers Idrees,8, and Raees,4. In a similar incident in Alpuri, five people were injured.
Officials said several major roads including Bisham-Swat, Karora-Chakesar, Dandai-Chakesar and Alpuri-Puran roads besides many link roads were blocked due to landslide in the district.
Hundreds of passengers remained stranded owing to blockade of roads. The locals also complained about disruption of power supply in most parts of the district.
Two people were injured in a house collapse incident in Karnal Sher Khan village of Swabi district.
Heavy downpour also inundated low lying areas of Dera Ismail Khan district and turned city roads and streets into streams.
Five persons including two women and one minor were injured in three separate incidents of roof collapse in Mardan district.
Provincial Disaster Management Authority said that river waters were surging across the province. It asked the people living in low lying areas to take precautionary measures.
The authority said that water flow in the Swat River at Chakdarra was 75,843 cusecs while the flow at Khawazakhela stood at 40,872 cusecs and in the Panjokra River 30,222 cusecs.
It said that the flooded Swat and Panjkora rivers would join the Kabul River and likely to pass through Nowshera and Charsadda district later in the night.
Met department recorded 176 millimetres of rain in Malam Jabba, 101 in Pattan, 78 in Dera Ismail Khan, 76 in Kalam, 37 in Peshawar and 31 in Chitral.
Published in Dawn, September 2nd, 2020