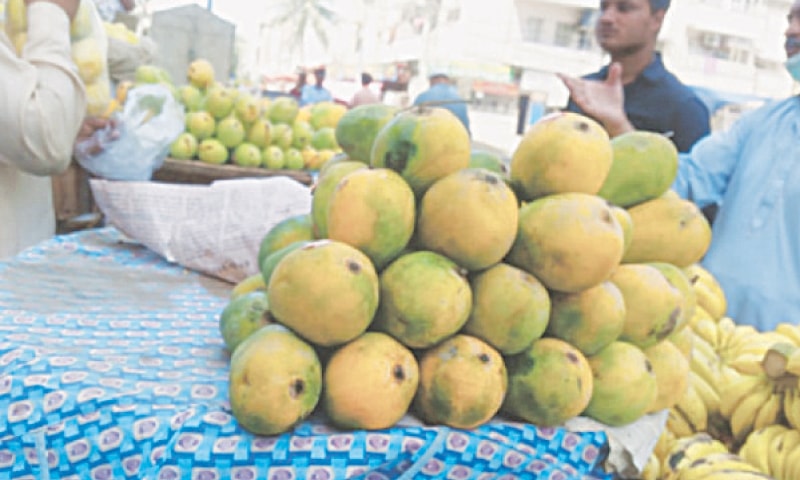 ISLAMABAD: The Japanese government on Monday temporarily allowed import of mangoes from Pakistan.
According to the Ministry of National Food Security and Rese­arch, exporters despatched three shipments of local mango varieties 'Sindhri' and 'Chaunsa' to Japan as per agreed procedures between the Department of Plant Protection (DPP) and the Japanese Ministry of Agriculture, Forestry and Fisheries (MAFF).
Normally, the Japanese government sends its inspectors to Pakistan and other mango exporting countries for quality check and clearance before allowing imports into Japan.
However, this year, the Japanese government could not send inspectors due to the Covid-19 pandemic.
In 2019, mango exports to Japan rose to a record high of 120 tonnes and were favourably received in the Japanese market.
A press release of the Japanese embassy on Monday said that Japan will continue to support Pakistan in the agricultural field such as taking measures against locust control, expanding export of agricultural products, and investment in the food processing sector.
The MAFF has granted market access to fresh Pakistani mangoes but its import in Japan is subject to offshore disinfestation treatment and sterilisation using saturated steam at vapour heat treatment facility duly approved by the DPP and MAFF and pre-clearance programme by Japanese inspectors.
Japan's Ambassador to Pakistan Matsuda Kuninori held a meeting with Minister for National Food Security and Research Syed Fakhr Imam on Monday and admired the quality of Pakistani mangoes.
Imam also showed interest in increasing export of Pakistani basmati rice to Japan.
Minister Imam appreciated the MAFF for facilitating mango exports from Pakistan by exempting pre-clearance in the wake of Covid-19 outbreak instead of restricting it due to difficulty in implementation.
Imam asked Japanese envoy for market access to Pakistani citrus in light of the country's historical trade of citrus fruit with China, Russia, Indonesia, Malaysia, and Iran. He said the cold treatment of the citrus fruit prescribed by the US government is acceptable to various citrus exporting countries.
There has been no report of non-compliance ever from citrus importing countries since it works well to eliminate all fruit flies from Pakistani kinnow, he said.
The Japanese government is assisting Pakistan in fighting the desert locust with 58,502 litres of insecticide to be sprayed in the affected regions.
It also provided assistance to Pakistan for agricultural development, scholarships for higher studies, on-job training courses and supported agricultural research system through the provision of equipment.
The Plant Genetic Resources Research Institute at the National Agricultural Research Centre was setup with assistance from Japan. The Japanese government has also provided funds to UN Industrial Development Organisation at the request of Pakistan to launch the 'Agri-Business and Agro-Industry Development' project at a cost of $3.02 million.
Published in Dawn, July 7th, 2020