ISLAMABAD: Razzaq Masih, 35, a resident of the G-7 slum, lived a happy life till the Covid-19 pandemic put his family in dire financial straits.
Father of two, Razzaq was working at the office of a private insurance company located in Blue Area. But two months ago when there was a surge in coronavirus cases, he was sent home. Since then, he has been facing problems to make ends meet.
The country's economy, which was already in a crisis, was aggravated with the surge of Covid-19 cases, leaving almost all the private sector - industrial, tourism and services sectors - in tatters. As a result, thousands of people lost their jobs. Currently, 223,728 people have tested positive for the virus in the country with 4,592 deaths.
"I used to earn Rs17,500 per month. Out of this, I paid Rs5,000 house rent and managed my expenses with the remaining amount," Mr Razzaq told Dawn.
"When I was sacked, I had no alternative but to start selling vegetables," he added. Today, Razzaq sells vegetables on a cart at a slum near Khadda Market.
"For the last two months, we could not pay our rent as business was slow because of the virus. Purchasing power of the slum dwellers has reduced significantly," he said.
Asked why he was paying a monthly rent in the slum, he said: "As I could not build my own house I rented a two-room house in the slum for Rs5,000."
He said he and his wife had also applied for the prime minister's corona relief fund but received no financial assistance.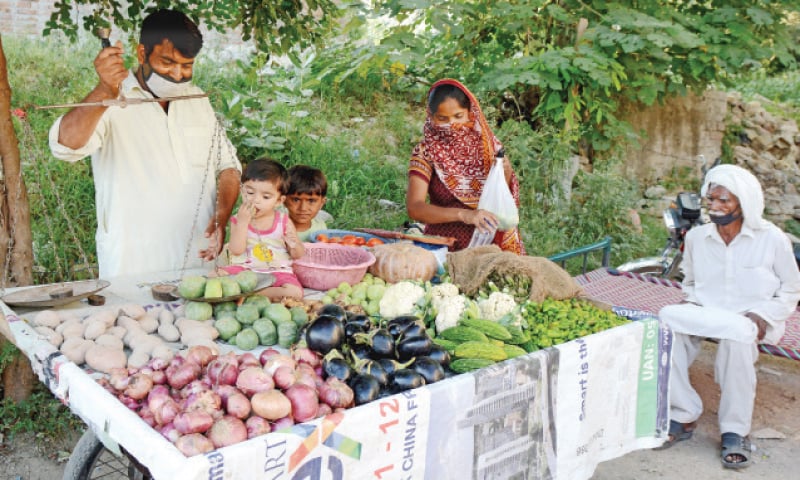 "In April, in response to my text message for the fund, I was told that I am not eligible to get the facility. My wife was told she was eligible but till now she has not received any cash," Razzaq Masih said.
His wife said there was a sense of disappointment in the entire slum. She said recently teams of doctors visited the area to test the dwellers for the coronavirus free of cost but majority of the people did not give their samples. "My test was conducted and the result is awaited," she said. The Metropolitan Corporation Islamabad's (MCI) Directorate of Health has been conducting free tests in the slums of Islamabad.
Dr Hassan Urooj, who leads the health directorate of the MCI, confirmed to Dawn that the response of people in the slums was not encouraging. "Our target is to conduct 100 random tests in each slum but so far we have managed to test 100 people in the three slums," he said.
"Some of the people fear that in case of a positive result, police will pick them up. There is a need for a proper campaign to educate people about it," Dr Urooj said, adding that his teams had been running a campaign through mosques and churches.
During a visit to some slums of G-7, Dawn noticed that people were upset because of the lack of job opportunities. However, they were not afraid of the pandemic.
"There is no case of coronavirus in the slums, but there are many people out of job. Young boys, who had private jobs, are jobless now while women, who worked as domestic help, are also out of work," said Qaisar Masih, a resident of G-7 katchi abadi.
A spokesperson for the MCI, Mohsin Sheerazi, said slum dwellers were in a state of denial regarding free Covid-19 tests.
"Besides, other factors, perhaps they feel that in case of the positive results, their slum will be sealed," he said.
Published in Dawn, July 4th, 2020